A Holistic Needs Assessment (HNA) gives you a chance to think about your concerns and discuss possible solutions.
It is called 'holistic' because the assessment looks at needs or concerns you may have about any area of your life and not just about the symptoms of the cancer.
These concerns can be:
physical
emotional
practical
financial
spiritual.
You will talk about these with your key worker and make a plan to address your care and support needs. A key worker is your main contact for information and advice about your treatment. This is usually your clinical nurse specialist (CNS).
Having an HNA is about recognising that any area of your life affected by cancer is important. It gives you the time to explore what resources, help and support are available.
What happens at an HNA?
An HNA usually has three parts:
You answer a simple set of questions or fill in a checklist about all areas of your life. This is to identify any concerns you may have. You are often asked to rate how mild or severe your concerns are. This can help decide what needs to be dealt with first.
You discuss answers with your key worker. This is a chance to talk about the issues you have identified. You can bring a carer, family member or friend to this meeting. 
You create a care plan together. You will then discuss and plan how to deal with your concerns. This is sometimes referred to as a care plan.
The care plan may include things like ideas to help you manage emotional, physical or practical worries. It will also include contact details for organisations or services that could help with your concerns, such as the Macmillan benefits team or a dietitian.
Your key worker will write down the actions you agree on. You will then be offered a copy of this plan to take away with you. It may also be shared with other members of your healthcare team if it will help with your care.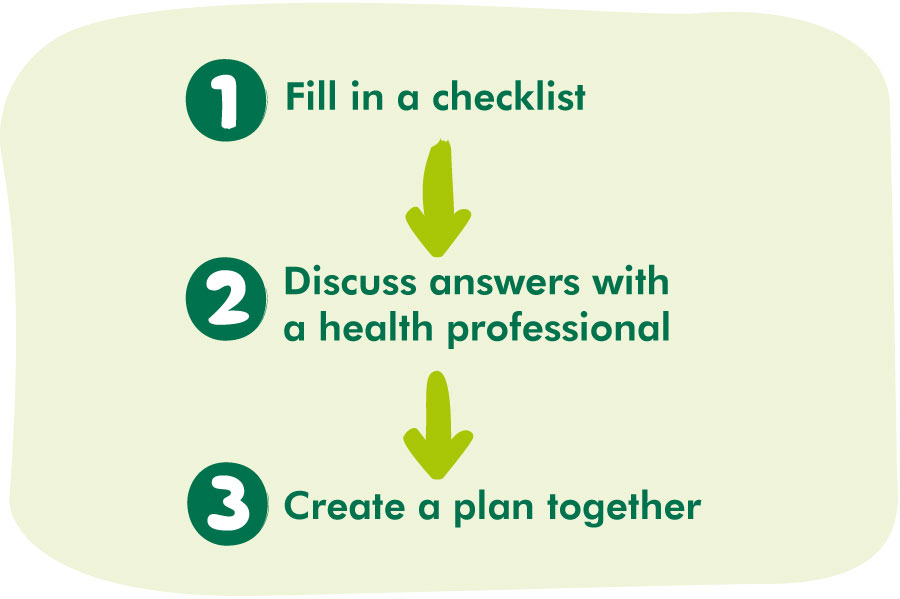 Benefits of having an HNA
You can get information and support for any symptoms or concerns you may have.
It can help you prioritise your most important concerns.
It can help your key worker understand what is important to you.
Your key worker can refer you to other services, if this would help.
You can find out about support groups in your area.
It can help you plan ahead – from diagnosis through to treatment and life after treatment.
When does the assessment happen?
You may be offered an HNA around the time of your diagnosis, during treatment or after treatment has ended. If this is not offered, you can ask your key worker for it. Because your needs may change, you can ask for an assessment at any time if you feel it would help.
You may have a separate appointment for the HNA, or it may happen at the same time as other appointments you are having.
You may be sent the checklist of questions in advance. Or you may be asked to fill one out in the waiting room before you meet with your key worker. Help will be available if you need it.
Who do I have the assessment with?
You will talk about your answers to the checklist of concerns with your key worker or another member of your healthcare team.
Whoever you speak to should have the skills and experience to help identify and discuss your concerns. They should have up-to-date knowledge of local and national services, and know how to refer you to additional services if you need them.
Tell your key worker if you would like a family member or friend with you for the discussion. If you have a carer, they may come with you and you can talk about their concerns too. A carer is someone who provides unpaid support to you, which you could not manage without. However, the assessment is mainly designed to focus on your needs and concerns. You can also ask for an interpreter if you need one.
How long will the assessment take?
For many people, the meeting takes about 30 minutes. You may feel there won't be enough time to talk about some of your concerns or that they are not important enough to mention. But the HNA should take as long as you need to talk about your main concerns. If there are still issues you want to talk about at the end of the assessment, your key worker can make another appointment with you.
Where will the assessment take place?
The discussion should be held in a private and comfortable setting. If it is with your key worker, it will usually take place where you have your treatment or care, for example at the hospital or health centre. The assessment may also happen over the telephone. The options will be explained by your healthcare team. You should tell your key worker what you would prefer.