There are more than 200 different types of cancer. Each type has its own name and treatment.
Cancer starts in our cells. Cells are tiny building blocks that make up the body's organs and tissues. Cells receive signals from the body, telling them when to grow and when to divide to make new cells. This is how our bodies grow and heal. These cells can become old, damaged or no longer needed. When this happens, the cell gets a signal from the body to stop working and die.
Sometimes these signals can go wrong, and the cell becomes abnormal. The abnormal cell may keep dividing to make more and more abnormal cells. These can form a lump, called a tumour.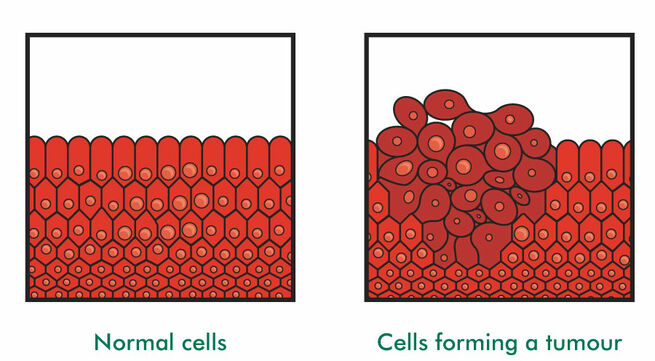 Not all tumours are cancer. Doctors can tell if a tumour is cancer by taking a small sample of cells from it. This is called a biopsy. The doctors examine the sample under a microscope to look for cancer cells.
A tumour that is not cancer (a benign tumour) may grow, but it cannot spread to anywhere else in the body. It usually only causes problems if it grows and presses on nearby organs.
A tumour that is cancer (a malignant tumour) can grow into nearby tissue.
Sometimes cancer cells spread from where the cancer started (the primary site) to other parts of the body. They can travel around the body in the blood or through lymph fluid which is part of the lymphatic system. When these cancer cells reach another part of the body, they may grow and form another tumour. This is called a secondary cancer or a metastasis.
Some types of cancer start from blood cells. Abnormal cells can build up in the blood, and sometimes the bone marrow. This is where blood cells are made. These types of cancer are sometimes called blood cancers.
In the UK, around 360,000 people are diagnosed with cancer every year. We know there are over 200 different types of cancer, but we do not know all the causes.
But we do know about the possible risk factors that can affect your risk of developing cancer. Some people make lifestyle changes to try and reduce this risk. Changes can include:
stopping smoking
eating a healthy diet
being physically active
keeping to a healthy weight
following recommended alcohol guidelines.
Macmillan Support Line
The Macmillan Support Line is a free and confidential phone service for people living and affected by cancer. If you need to talk, we'll listen.