Our online information is currently being updated and will be ready soon.
Before our online information is ready, you can download or view a PDF copy of the booklet shown below. You can also order a physical copy at be.macmillan.org.uk.
Cancer of unknown primary (CUP) affects 2 in 100 people diagnosed with cancer in the UK (2%). It can affect people of all ages, but is most common in people aged 60 or over.
Cancer of unknown primary means your doctor is not sure where the cancer started. They have found a secondary cancer but have not been able to find the primary cancer. People with CUP sometimes have more than one secondary cancer. We have more information about secondary cancer.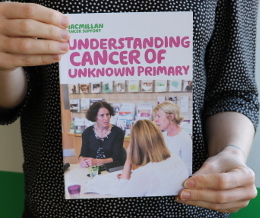 Cancer sometimes spreads from where it started (primary cancer) to another part of the body (secondary cancer)...
How we can help
Online Community
An anonymous network of people affected by cancer which is free to join. Share experiences, ask questions and talk to people who understand.
Help in your area
What's going on near you? Find out about support groups, where to get information and how to get involved with
Macmillan
where you live.