Macmillan's May Dog Walking challenge
And we're BARK by popular demand! Sign up with your pup to Macmillan's May Dog Walking Challenge. Take on either 50, 75 or 100km throughout the month of May to support people living with cancer! Take part in something pawsome!
About the event
Grab the leash and sign up to our Macmillan May Dog Walking Challenge with your pup! This is a great way to get out and about with your dog and raise money for people living with cancer.
Throughout the month of May, sign up to walk a distance of your choice with your furry friend by your side. Choose between completing either 50, 75 or 100km with your dog, working at a pace that suits you and your fellow fluffy challenger.
Join the #DogSquad community on Facebook and share updates with your fellow challengers.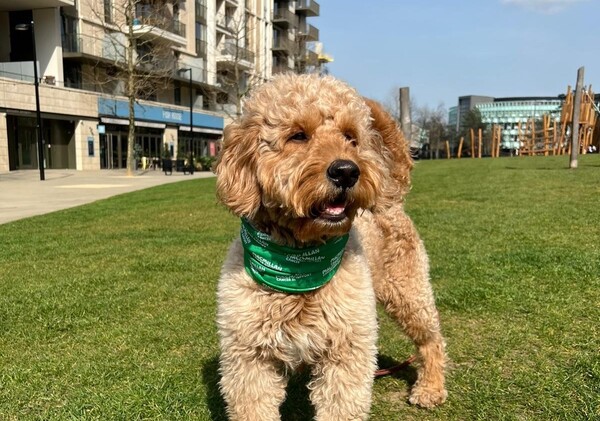 How to enter
This event is hosted on Facebook. Join the group to meet thousands of fellow challengers and get updates as you progress through the challenge. There's no minimum fundraising pledge, just raise as much as you can!
Not on Facebook? No problem
If you're not on Facebook and would like to take part don't worry. Just email us on fundraising@macmillan.org.uk and we'll help.

Why should I join Team Macmillan?
By registering in the Facebook group following the steps above you'll receive:
A free Macmillan dog bandana for your furry friend
Access to our friendly Facebook group and your fellow challengers (both human and dog!)
Fundraising support and updates
Most importantly we'll provide you with a reason to keep going because you'll know that you're helping improve the lives of people living with cancer. Donations make up 98% of our annual income so we simply couldn't do what we do without you.
By taking part in this challenge, you accept that you must, as least, be at a basic level of fitness in order to participate. You also must be over the age of 18 to take part.
Benefits of dog walking
There are many benefits of walking with your dog. Regular dog walking can help you to:
Improve fitness. Dog walking encourages you to be more active.
Relieve stress and improve mental wellbeing. Walking is known to be a form of therapeutic exercise.
Lower blood pressure.
Discover new places to walk your dog.
Build a social connection with your dog and other walkers.
FAQs
Can I start the challenge late or early? What if I miss a day?

We will be encouraging everyone to start their challenge on 1 May and complete the chosen distance by the end of the month. However, if you are joining the challenge later or you have missed a few days, you can continue into June.

How can I keep track of the kilometres I have done throughout the month?

Strava, Fitbit or other fitness apps. We will also share a daily tracker for you to mark each day as you complete each day. Share your progress with your friends and family to encourage sponsorship throughout the month.

What level of fitness do I need to have?

This is an accessible challenge set to get you out and about with your dog. Each participant should go at their own pace that's comfortable for them and their dog and select a distance which reflects that.

What safety precautions should me and my dog take?

Safety is the top priority when taking part in this dog fundraiser. You know your dog best and we encourage you to think about the distance you walk per session and whether it is appropriate for your dog, especially if they are still a puppy. If you have any concerns about your dog, please consult a vet.

Do I have to complete the full distance?

As we have three distances (50, 75 and 100km), please move around these targets depending on your situation. If you sign up hoping to complete 100km but feel that you and your dog can only safely complete 50km (or 25km) – do what works best! At the end of the day we are so glad that you are taking part in the challenge to help us support people with cancer.

What temperature is too hot to walk my dog?

As this is a May challenge and the weather will be warm, we recommend walking appropriately in the heat. For example, carrying plenty of water and keeping to shady paths. We recommend walking your dog in the morning or evening when it's cooler. For more information on walking dogs in warm weather, check out trusted sources such as RSPCA..

How long will my dog bandana take to arrive?

We will be sending out dog bandanas from the 14th of April. We expect these to arrive within a week prior to the challenge starting.
Ready to join?
By joining us you'll know that you're helping improve the lives of people living with cancer in the UK today.
you might also find useful