About The Event
This coastal path welcomes challengers in sunny July, taking challengers around the island, down past the Needles and the Southern Cliffs to Chale at half way. For Full challengers, it's on to historic Ventnor and Bembridge, then back to base camp after an epic 106km journey.
How to enter
Charity Sponsorship - pay a small registration fee and do lots of fundraising
Full Challenge (~100km) - £30 registration fee + £595 fundraising pledge
Half Challenge (~50km) - £20 registration fee + £395 fundraising pledge
Quarter Challenge (~25km) - £10 registration fee + £245 fundraising pledge
Mixed Fundraising - pay a higher contribution to the cost of your place and fundraise less
Full Challenge (~100km) - £110 registration fee + £299 fundraising pledge
Half Challenge (~50km) - £72.50 registration fee + £218 fundraising pledge
Quarter Challenge (~25km) - £45 registration fee + £135 fundraising pledge
You will need to reach 50% of your fundraising target at least 6 weeks before the event in order to confirm your place on the day. But don't worry, we're on hand to help you meet your goal, with fundraising support throughout your journey with us. Please get in touch with our Hiking Team if you have any questions, we are here to help!
Or, obtain a Self Funded place and raise whatever you can to help support people living with cancer. Simply select the option to fundraise for Macmillan when signing up and we'll support you every step of the way.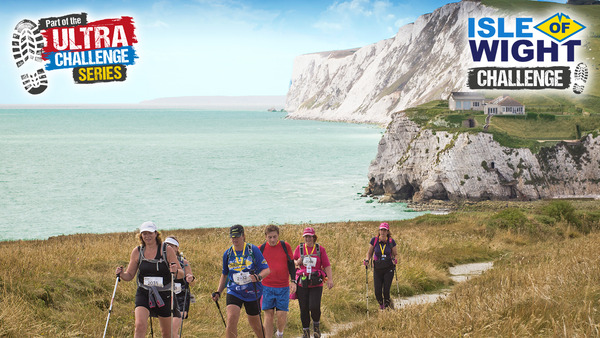 Sign up by the end of September and receive an Early Bird discount on all places
Why should I join Team Macmillan?
You'll get full support and hospitality all the way, leaving you to focus on your challenge.
Join as an individual or team
Full, Half and Quarter challenge options
2 day 100km 'daylight' option
Half way camping option
Walk at your own pace
Covered rest stops
Fully signed route
Free food and drink
Medics, massage, and pace walkers
Shuttle buses and transfers
Ultra Challenge mobile app
Medal, t-shirt and a glass of bubbly when you finish
How we'll support you
As part of Team Macmillan, you'll receive:
First class support from the Macmillan Hiking Team, from sign up right through to when you cross the finish line
A free Macmillan top, plus iron-on letters to customise your kit
A fundraising pack bursting with fundraising tips and tricks
Training support to get you ready for your challenge
E-newsletters to keep you up to date
An exclusive Team Macmillan Ultra Challenges Facebook group to meet your teammates
For full information on this challenge, please visit the Isle of Wight Ultra website. You can also find FAQs here.
Please make sure you have read our Terms and Conditions before signing up.
Pandemic promise
Our main priority is the health and wellbeing of our participants, volunteers and colleagues. We're committed to keeping you up to date with information regarding your event as we receive it.
If your event is cancelled or postponed, we will be in touch to let you know what options are available to you. If you have any questions, you can email the team at hiking@macmillan.org.uk and we'll be happy to help.
Event Accessibility
Visually impaired participants are welcome and usually take part with someone supporting them on route. There may be a discounted charge for this to cover event costs such as food etc. Event sites are generally in playing fields or outdoor areas on flat land. For spectators, there is limited wheelchair access and this can vary on the day depending on ground conditions.
For more details, please speak to the Action Challenge team who will be happy to discuss course suitability for your accessibility requirements.
Ready to join?
By joining us you'll know that you're helping improve the lives of people living with cancer in the UK today.