About The Event
The Vitality Big Half is the London Marathon's very own half marathon event. Said to be a community running festival for everyone. The event encourages all ages, backgrounds and running abilities to take part.
How to enter
There are two ways you can join Team Macmillan in this event:
Secure a charity place
We would love to have you join Team Macmillan to support people living with cancer. We ask for a £35 entry fee and a minimum fundraising pledge of £350 (excluding gift aid)
Use your own place
If you were lucky enough to get your own place in the Vitality Big Half and would like to raise money for Macmillan, please sign up now. There's no minimum sponsorship, just raise as much as you can!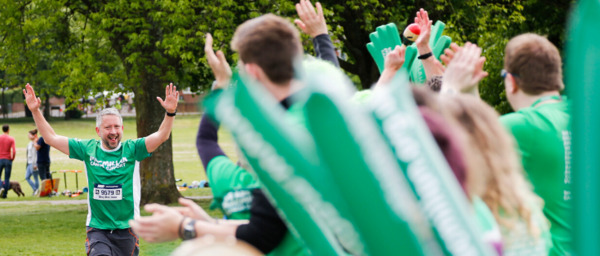 'You get great support from the whole team and their crowd of supporters' Tom, Team Macmillan runner
Why should I join Team Macmillan?
As a Team Macmillan runner you'll receive:
A free Macmillan technical running top plus iron-on letters to customise your kit
A fundraising pack bursting with fundraising tips and tricks
Access to our online training materials
Invites to exclusive online events to support you with all elements of your training and fundraising
Regular e-newsletters to keep you up to date with Macmillan's news and activities
The loudest and most supportive cheer points on the course!
Most importantly we'll provide you with a reason to keep going because you'll know that you're helping improve the lives of people living with cancer. Donations make up 98% of our annual income so we simply couldn't do what we do without you.
Please make sure you have read our Terms and Conditions before signing up. You must be aged 17 or over on the day of the event to take part.
Pandemic promise
Our main priority is the health and wellbeing of our participants, volunteers and colleagues. We're committed to keeping you up to date with information regarding your event as we receive it.
If your event is cancelled or postponed, we will be in touch to let you know what options are available to you. If you have any questions, you can email the team at running@macmillan.org.uk and we'll be happy to help.
Event Accessibility
The Vitality Big Half is an inclusive mass participation event that aims to cater to participants of all abilities. Chair athletes, visually impaired runners, hearing impaired runners and any person with a mobility impairment who can run can take part.
Please look at the Vitality Big Half website for further details on who can take part and additional information on who to contact for the event day.
Ready to join?
By joining us you'll know that you're helping improve the lives of people living with cancer in the UK today.
Volunteering
We need an army of cheerers to make this event special. If running is not your thing or you have any family and friends who'd like to come and support you on the day, we'd love them to join our volunteering team.
See other events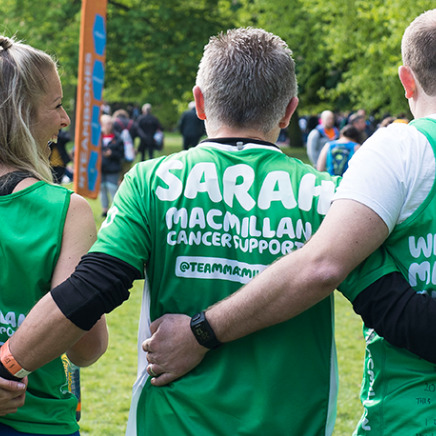 Are you looking for a different event?
If this event doesn't quite fit the bill, there are loads more to chose from. Go back to the events listing to find the perfect event for you.
View all events