Eating well and keeping active
After a cancer diagnosis, many people find that following a healthy balanced diet and staying active helps give them back a sense of control.
After a cancer diagnosis, many people find making the decision to follow a healthy, balanced diet helps give them back a sense of control. It can also help you feel that you are doing the best for your health.
Eating well and keeping to a healthy weight will help you keep up your strength, increase your energy levels and improve your sense of well-being.
After cancer treatment, some people have a higher risk of other health problems, including diabetes, heart disease or osteoporosis (bone thinning). If you have been told that you may be at an increased risk of any of these conditions, it is especially important to follow a healthy diet to help prevent them.
Before making changes to your diet, it can help to talk to a dietitian, your GP or a specialist nurse. This may be especially useful if you have any special dietary requirements or medical needs.
A dietitian can help you make changes. They can also advise you about any other dietary problems you might have during or after your cancer treatment.
This diagram shows the proportion of each type of food you should try to eat for a healthy, balanced diet.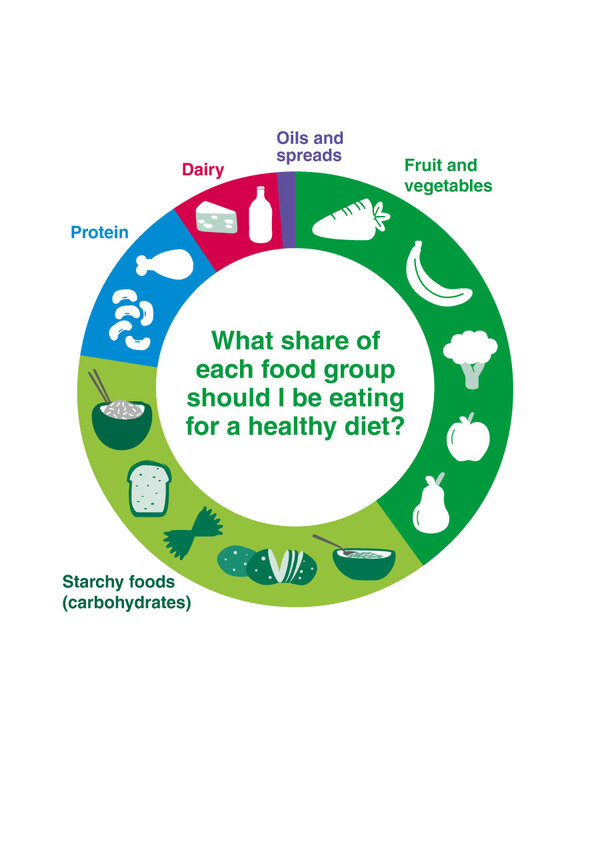 Aim to eat plenty of fruit and vegetables and starchy foods. The proportion of protein you eat should be smaller. The amount of dairy you have should be smaller still. You should aim to have only a small amount of oils and spreads.
When you are living with or after cancer, becoming more active can be a positive change to make in your life.
Being active before, during and after treatment can:
reduce tiredness (fatigue)
improve your quality of life
reduce anxiety and depression
help you maintain a healthy weight
strengthen your muscles, joints and bones
improve your flexibility and help keep you supple
increase your confidence.
You might be nervous about starting and building up your activity, especially if you have not been active for a while. You may worry that you are too tired, don't know how to start or don't know what is best for you to do.
You may also be concerned about injuring yourself. But even a little physical activity is better than none at all. It can help you feel less stressed and lift your spirits if you are feeling low. It will also help you feel more in control, because you are doing something positive for yourself.
Being active before treatment
If you know you are going to have surgery, your doctor might encourage you to start some physical activity before the operation. This is to help improve your general fitness level. It can also help with your recovery after surgery.
Being active before treatment starts can help prepare your body for treatment. This may mean you have fewer side effects, or that they are less severe. It can also help you feel better in yourself.
Some people have to start treatment straight away. But if you don't, physical activity will help you prepare for future treatment.
Getting started
You may need to be careful with the activities you choose. This will depend on the cancer, your treatment, its side effects and any other medical conditions you have. Your doctor or specialist nurse can give you advice.
Chemotherapy, radiotherapy or recent surgery can affect the type of activity that is safe for you. For example, chemotherapy increases your risk of infection. If your white cells are low, your doctor may advise you to avoid pools or gyms. If you have long term treatment effects, such as lymphoedema or nerve damage, you will also need advice on what is safe.
Different ways of being active
There is no one activity that is best for everyone. Choose activities you enjoy and that fit in with your life. If possible, do a mix of activities that improve your aerobic fitness, strength and flexibility.
In the UK, adults are advised to include different activities and do at least 2½ hours (150 minutes) of physical activity a week.
Choose activities you enjoy and, if possible, do a mix of activities. Some examples include the following:
Walking, gardening, dancing, running and jogging, cycling or swimming are good for heart health.

Resistance and strength exercises

Lifting small weights or 'sit to stand' exercises that you can do at home – help strengthen muscle.

Stretches, yoga, tai chi or qi gong can improve suppleness.

Yoga, tai chi, pilates and qi gong can help with balance and strength.
It is important to get advice before you start becoming more active. Your cancer doctor, GP or specialist nurse can tell you what type of exercise is most appropriate for you. You can also get support from a physiotherapist or an occupational therapist.
Tips for getting started include joining a walking group, playing a sport or encouraging your friends and family to join you. Setting yourself realistic targets and keeping a record of your progress will help you to stay active.
Macmillan Cancer Support Line
The Macmillan Support Line offers confidential support to people living with cancer and their loved ones. If you need to talk, we'll listen.