Before diagnosis, Cathy had a successful career and a happy home life. She suffered from the symptoms of IBS, but other than this, didn't consider herself to have any serious health issues.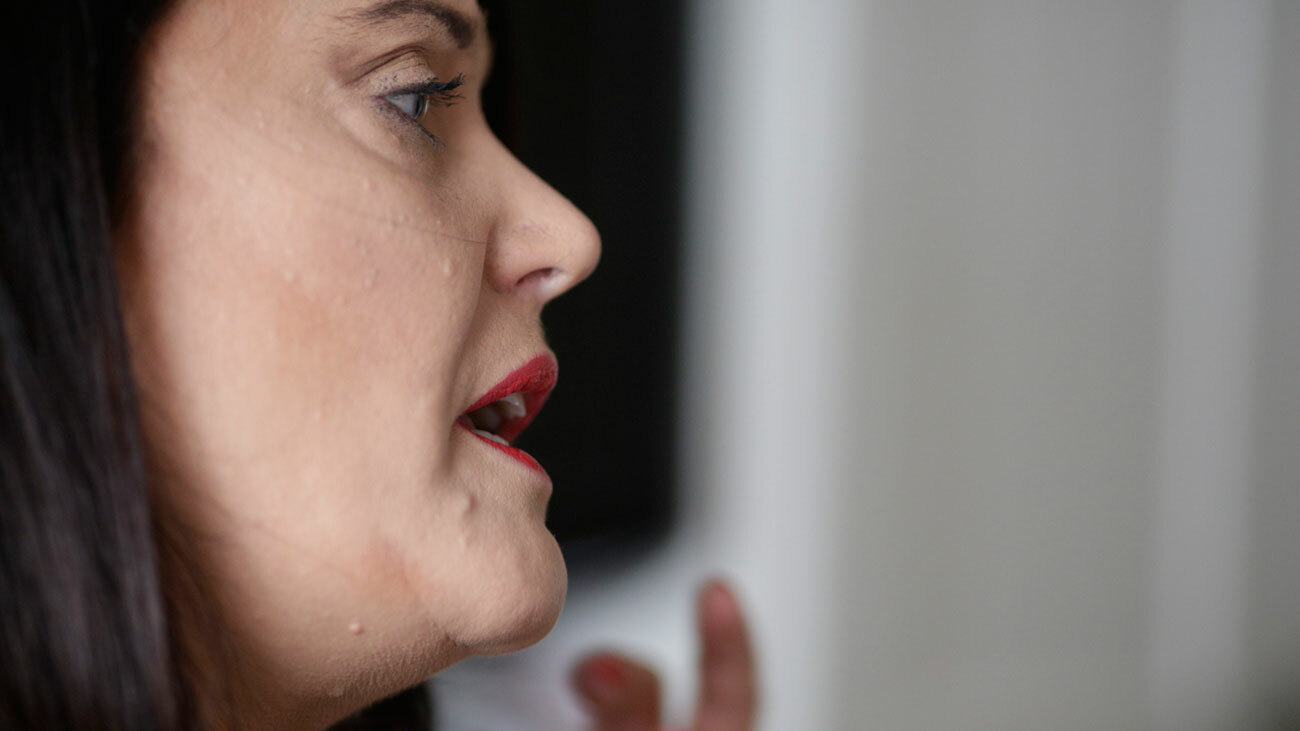 In 2012, she was referred by her GP for a colonoscopy, and was told straight after that she had bowel cancer, but she had to wait several more weeks to find out how advanced it was.
'That was a very, very difficult time for myself and my family.' 
I was diagnosed with Irritable Bowel Syndrome (IBS) in 1996, so for next 16 years I learned to live with it. All the problems that I had, I just put down to the IBS. Then in the summer of 2012 I noticed some blood in my stools. I heard a radio campaign at the same time which talked about the symptoms of bowel cancer. So as soon as I heard that I went along to my GP – but I wasn't overly concerned.
My GP referred me to the hospital for a colonoscopy. I had that done and straight afterwards I was told I had bowel cancer. I was very shocked. But I had to wait for two weeks over the Christmas period for my CT scan, so for that time I wasn't sure if the cancer had spread. So that was a very, very difficult time for myself and my family.
'I was very uncertain about my future.' 
I felt really emotional. I didn't know if my cancer was terminal or how long I had left. I was very uncertain about my future. I felt quite lonely and isolated while I was waiting for the prognosis. I wasn't sure what would happen with the family, with the family home, with my children. I felt though I couldn't really tell anybody, because everybody was being brave for me. So I couldn't really speak to anybody about it.
'I spoke to someone who completely understood and helped calm me down'
Macmillan made a difference to me emotionally, when I was going through extremely stressful times. Just to have somebody to talk to and tell you that you're not alone, that there's help and support there for you when you need it. I felt very distressed, very anxious about my future, about my career, but they reassured me and helped with issues that I had at that time. I called the Macmillan Support Line and spoke to somebody who completely understood, and helped calm me down.
Recovering from surgery and returning to work proved extremely difficult. But Macmillan supported me throughout. They gave me advice on returning to work and my rights at work. I was sent the Macmillan work and cancer toolkit, which is for employers and employees. I also spoke to somebody about my benefits and they recommended that I get in touch with the Equality Advisory Service, who also helped me.
Macmillan Cancer Support Line
The Macmillan Support Line offers confidential support to people living with cancer and their loved ones. If you need to talk, we'll listen.
Welfare rights advice and tools
There are lots of benefits that could help you after a cancer diagnosis, but the system can be confusing. Our Welfare Rights Advisors are here to help.
Help with work
We have information and an advice service for anyone who has to cope with cancer while they are working or running a business