Macmillan's annual report and accounts
Download our annual report and accounts for the story of our successes and challenges in 2020.
Supporting people during the pandemic
At Macmillan, we do whatever it takes to provide the best possible support for people living with cancer. In 2020, we supported more than 4.2 million people with vital emotional, practical and financial cancer support through our online support services. We also helped identify £278 million in financial support for people facing money worries, and answered over 221,000 calls, emails and webchats through our Macmillan Support Line.
How we helped people living with cancer in 2020
Adapting fast to coronavirus (COVID-19)
We couldn't talk about 2020 without mentioning coronavirus and the massive impact it had on people living with cancer. We needed to continue doing whatever it takes to support people living with cancer, and do it in a constantly changing and uncertain situation for our employees, supporters, and the people we support.
19% 570,000 people in the UK with cancer (19%) have barely left the house because they're scared to do so.
1 in 4 The virus and associated lockdown has left as many as one in four (840,000) people with cancer feeling stressed, anxious or depressed.
We had to make some tough decisions about our investments in our face-to-face services, and had to stop our Mobile Information and Support Service altogether. We also furloughed around 30% of Macmillan employees to make savings using the government's Job Retention Scheme.
Despite the challenges, we continued to innovate, and launched new digital services and fundraising opportunities fast, so we could still support all the people who needed us in an increasingly virtual world.
How we raised our money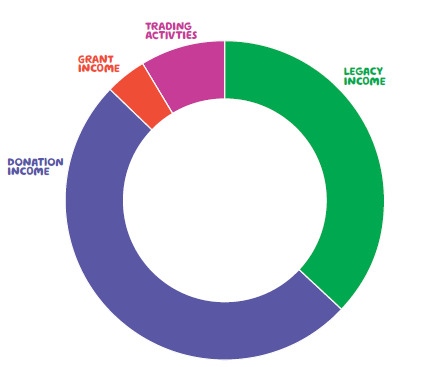 A huge part of our fundraising relies on people getting together at events, and coronavirus restrictions hit our fundraised income hard. Like other charities, we saw a significant drop in income, around £37.9 million less than 2019.
Yet thanks to our dedicated supporters and our own fundraising teams, we raised £193.5 million for people living with cancer, keeping our services going when they were needed more than ever. We launched an emergency appeal, developed new online events, and adapted our existing events, like creating a virtual or socially distanced World's Biggest Coffee Morning.
Legacy income £71.8 million
Legacy giving is when people leave a gift to us in their will. This produced over a third of our income in 2020. We want to say a special thank you to the 2,650 people who so kindly left us a gift in their will.
Find out more about gifts in wills.
Donation income £97.2 million
Local fundraising committees £2.2 million
This is donation income raised by fundraising committees in their local communities.
Fundraising events £30.3 million
This includes national, challenge and local events.

Corporate income £13.9 million
This is income from corporate supporters and partners.

Philanthropy £5.4 million
This includes income from trusts and major donors.

General donations £11.4 million
We raise lots of money from general donations by the public.

Direct marketing £31.5 million
This is money raised by activities like direct debit campaigns and mailings.

Donated services and facilities £2.5 million
This is services and facilities donated to us.

Find out more about fundraising and donating with Macmillan.
Grant income £8.1 million
We also receive income from grants which we apply for, these typically come from organisations and the government. These include The Scottish Government funding for our Transforming Cancer Care Programme and the Sussex Cancer Fund funding the Macmillan Horizon Centre, Brighton.

Find out more about our special projects.
Income from trading activities £16.4 million
This includes income from our raffles and lotteries, fundraising committee sales, our online shop, licensing and royalties.
How we spent our money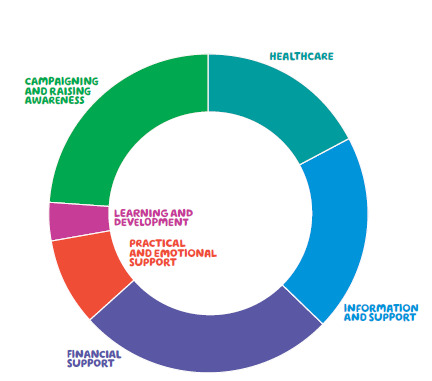 We spent £128.3 million on services for people affected by cancer. (This figure does not include grant writebacks and discounting adjustments.)

Healthcare £22.3 million
We fund and support a range of health and social care professionals.


Information and support £25.5 million
We provide people with information to help them make important decisions about their treatment and care.
Financial Support £33.5 million
We provide financial support to help people who are struggling with the cost of cancer, including through Macmillan grants, benefits advice and financial guidance.
Practical and emotional support £11.5 million
We help people find the emotional support they need and get help with the practical issues arising from cancer.
Learning and Development £5.2 million
This includes providing training opportunities for professionals, volunteers and people affected by cancer.
Campaigning and raising awareness £30.3 million
We campaign for changes to improve the lives of people affected by cancer and raise awareness of issues most important to them
About our charity trustees annual reports
Our annual reports help people to understand what our charity does, where our money comes from, and how we've spent our money in the past financial year.
Macmillan Cancer Support is a registered charity. You can find our charity number below:
in England and Wales (261017)
Scotland (SC039907)
Isle of Man (604).
You can find out more about Charity Commission for England and Wales at the gov.uk website.
Our past reports and accounts
Access current and past editions of our annual report and accounts.
You may also be interested in