What are my treatment options?
Your cancer specialist should tell you about all the treatment options available to you. They will discuss the benefits and disadvantages of the treatments and how they might affect you. Your cancer specialist may also discuss participating in clinical research trials for new treatments. You may find our section about making treatment decisions useful.
Will any religious or spiritual wishes I have be met?
Your healthcare team should be sensitive about any religious or spiritual beliefs you've shared with them. For example, this could mean providing you with information about complementary therapies that could improve your spiritual well-being, such as meditation.
When will the treatment start?
After diagnosis, your cancer specialist will usually want to do further tests and investigations to learn more about your cancer. This will help them plan the best treatment for you. They will be able to tell you how long these tests will take.
If you're diagnosed with cancer and doctors decide you need treatment, then there should be a maximum wait of 31 days between this decision and the start of treatment. If your GP referred you to a specialist as an urgent referral, then the total time between this referral and the start of your treatment should not be longer than 62 days. These times come from national targets in place across the UK.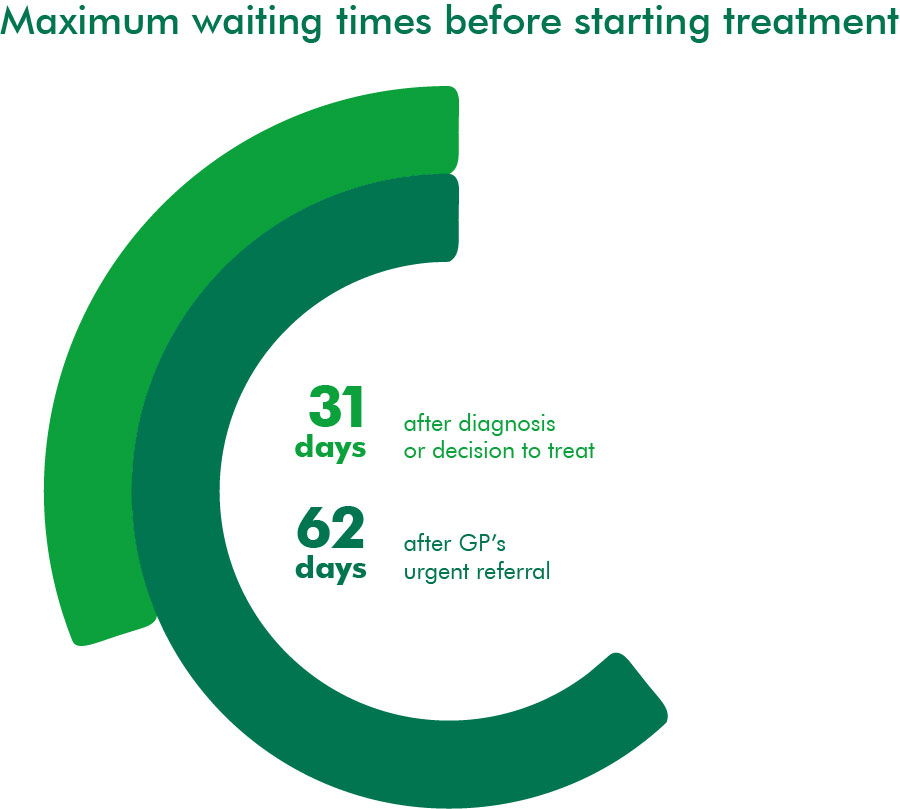 Who will oversee my treatment?
Your treatment should ideally be discussed and planned by a group of specialists called a multidisciplinary team. This team will include all the healthcare staff involved in your care. It will include cancer nurses, your cancer specialist and other relevant specialists, such as a dietitian or physiotherapist. You should be put in contact with a nominated key worker, who will keep you in touch with the multidisciplinary team.
What will the treatment be like and how long will it take? Will there be side effects, and what can I do about them?
Your cancer specialist or nurse should describe the treatment and how it's given. They will discuss the possible side effects of the treatment and what can be done to help relieve them. They'll answer any questions you have. They may also give you some written information about the treatment that you can take home.
What are the treatment guidelines and standards for my treatment and care? Can I see them?
You can ask your key worker, or any member of the healthcare team, to show you the guidelines and standards.