About The Event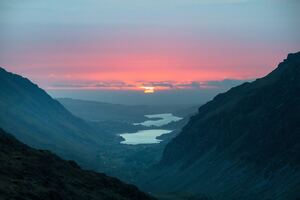 Following the Llanberis track to the summit using torches to light the way, trekking by night will bring a fresh twist to this classic charity challenge. Upon reaching the mountain summit you'll be rewarded with unforgettable views of the sun rising over the Snowdonia National Park and, as you descend, breathtaking sights of the mountain range will uncover before you. And, once you reach the finish line in Llanberis, you'll celebrate your achievement with a well-earned breakfast!
How to enter
Option A – Minimum Sponsorship
£49 registration fee + £290 fundraising pledge
Option B – Self Funding
£49 registration fee + self-funding £140 fee to pay 8 weeks before challenge
You will need to reach 80% of your fundraising pledge at least 10 weeks before the event in order to confirm your place on the day. . Please get in touch with our Hiking Team if you have any questions, we are here to help.
Why should I join Team Macmillan?
You'll get full support along the way from the Global Adventure Challenge team, leaving you to focus on your challenge. Breakfast is included after you've completed your trek as well as snacks along the route. You'll also have medical and support vehicle support on route should it be needed.
How we'll support you
As part of Team Macmillan, you'll receive:
First class support from the Macmillan Hiking Team, from sign up right through to when you cross the finish line
A free Macmillan top, plus iron-on letters to customise your kit
A fundraising pack bursting with fundraising tips and tricks
Training support to get you ready for your challenge
E-newsletters to keep you up to date
For full information on this challenge, please visit the Global Adventure Challenge.
Please make sure you have read our Terms and Conditions before signing up.
Pandemic promise
Our main priority is the health and wellbeing of our participants, volunteers and colleagues. We're committed to keeping you up to date with information regarding your event as we receive it.
If your event is cancelled or postponed, we will be in touch to let you know what options are available to you. If you have any questions, you can email the team at openchallenge@macmillan.org.uk and we'll be happy to help.
Find our more about Global Adventure Challenge's Travel With Confidence policy.
Ready to join?
By joining us you'll know that you're helping improve the lives of people living with cancer in the UK today.