Attracting over 11,000 participants and 30,000 spectators each year, this iconic triathlon has become a must-do event in the sporting calendar. With a variety of distances, routes and wave categories to choose from, everyone is welcome at the London Triathlon.
About The Event
There are two ways to join Team Macmillan for the London Triathlon 2021:
Macmillan Charity Place Entry
Our charity places are a great way to make a difference to people living with cancer. Click on the 'Get a Place' button, select your distance and pay your discounted charity registration fee. We ask that you pledge to raise a minimum of £300 in sponsorship (excluding Gift Aid) .
Own place entry
Sign up for your own place on the London Triathlon website. There's no minimum fundraising pledge, just raise as much as you can.
If you already have a place in the London Triathlon then you can order your free kit by emailing us. You'll get all the same incredible support and you're doing something wonderful with your personal challenge.
Please note you must be 17 years old in order to compete.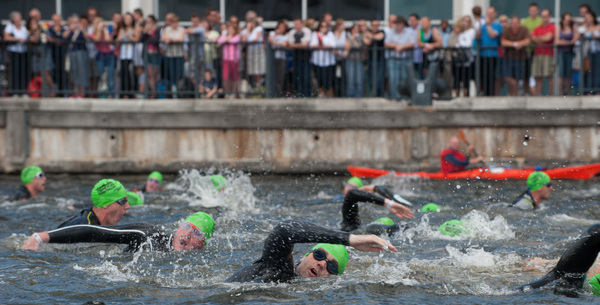 'Every time I came running round the corner on the last leg, you guys kept me going.'
Why should I join Team Macmillan?
Whichever way you choose to join Team Macmillan, we'll support you every step of the way with:
Our bumper fundraising pack, with and loads of fundraising tips and ideas.
Access to our online training zone.
Your free Team Macmillan technical running vest or t-shirt, plus iron on letters to customise your kit.
Regular e-newsletters to keep you up to date with Macmillan's news and activities.
Most importantly we will provide you with a reason to put in those months of training and fundraising, because you know that your efforts will help everyone with cancer live life as fully as they can.
Please make sure you read the event Terms and Conditions before signing up.
If you have any questions about the event please phone 0300 1000 200 or email triathlon@macmillan.org.uk
Pandemic promise
Our main priority is the health and wellbeing of our participants, volunteers and colleagues. We're committed to keeping you up to date with information regarding your event as we receive it.
If your event is cancelled or postponed, we will be in touch to let you know what options are available to you. If you have any questions, you can email the team at triathon@macmillan.org.uk and we'll be happy to help.
Event Accessibility
London Triathlon are an all-inclusive event and will do their utmost to accommodate participants with disabilities. Please contact their Customer Service Team,
info@londontriathlon.co.uk
who will try their best to assist you.
Ready to join?
By joining us you'll know that you're helping improve the lives of people living with cancer in the UK today.
Volunteering
We need an army of cheerers to make this event special. If running is not your thing or you have any family and friends who'd like to come and support you on the day, we'd love them to join our volunteer team!
See other events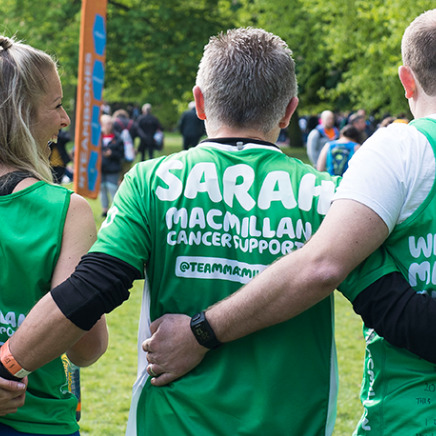 Are you looking for a different event?
If this event doesn't quite fit the bill, there are loads more to chose from. Go back to the events listing to find the perfect event for you.
View all events