The event is the original of the Castle Series and the final of the six events in stunning iconic venues and with distances for all levels from first timers and elites.
About The Event
How to enter
We are delighted to be the official charity for this fantastic event, so join Team Macmillan and we'll support you every step of the way. With multiple triathlon distances, run only and swim only events, there is truly something for everyone. There are two ways to get yourself signed up:
Secure a charity place
Our charity places are a great way to make a difference to people living with cancer. Entry is FREE, but we ask you to pledge to raise the below minimum sponsorship:
£500 for Gauntlet and Bastion distances

£350 for distances up to and including Olympic Triathlon

£200 for Castle Swim Series

£200 for Castle Run Series: Marathon and Half Marathon

£150 for Castle Run Series: 10K
To apply, simply sign up here. This will take you to official race website where you can select a 'Free Macmillan Charity Entry'.
Use your own place
Public entry for the Hever Castle Series is now open at official race website. If you want to support Macmillan then just tick our box when registering on the race website. There's no minimum sponsorship, just raise as much as you can!
What distances are there?
The Gauntlet (half iron / middle distance) – 1.9km swim, 96km cycle and 21km run
Olympic – 1.5km swim, 44km cycle and 10km run
Sprint Plus – 800m swim, 40km cycle and 8km run
Sprint - 750m swim, 20km cycle and 5km run
Super Sprint - 400m swim, 20km cycle and 4km run
Starter Sprint - 200m swim, 13km cycle and 2km
Run 10k
Run Half Marathon
Run Full Marathon
Swim 1 mile
Swim 2.5K
Swim 5K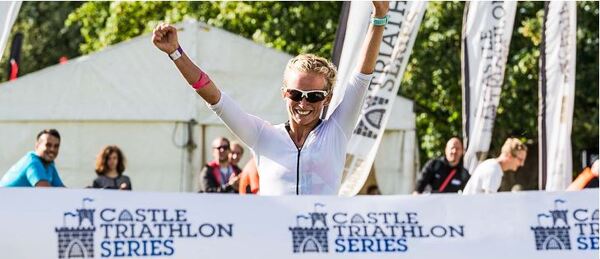 Why should I join Team Macmillan?
When you join Team Macmillan you will receive:
Free Macmillan vest or t-shirt to wear
Dedicated triathlon training and fundraising guide
Access to our online training zone
Support on the course to help you reach the finish line
Most importantly we'll provide you with a reason to keep going because you'll know that you're helping improve the lives of people living with cancer. Donations make up 98% of our annual income so we simply couldn't do what we do without you.
16 years old is the minimum age of entry for the Starter Sprint and Super Sprint, and 18 years old is the minimum age of entry for the Sprint Plus, Olympic and Gauntlet distances, as of 31 December in the year in which the participant is competing.
Please make sure you have read our Terms and Conditions before signing up.
Pandemic promise
Our main priority is the health and wellbeing of our participants, volunteers and colleagues. We're committed to keeping you up to date with information regarding your event as we receive it.
If your event is cancelled or postponed, we will be in touch to let you know what options are available to you. If you have any questions, you can email the team at running@macmillan.org.uk and we'll be happy to help.
Event Accessibility
For questions regarding accessibility at this event please contact the event organisers.
Ready to join?
By joining us you'll know that you're helping improve the lives of people living with cancer in the UK today.
Volunteering
We need an army of cheerers to make this event special. If running is not your thing or you have any family and friends who'd like to come and support you on the day, we'd love them to join our volunteer team!