Set in the heart of the stunning Ashdown Forest, Run the Trail is a Macmillan off-road running event for those who like a dose of nature with their challenge.
About the event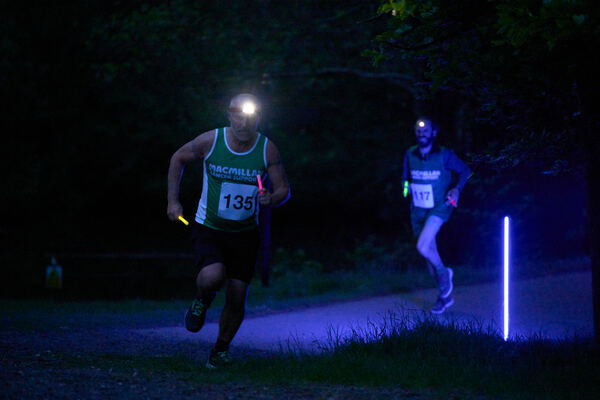 ;
Whether you are looking for a new way to energise your running experience or you packed in the pavements and discovered the joys of off-road running a long time ago, choose a trail distance to challenge you and fundraise to support people living with cancer.
Day and night trails
Choose a day trail to invigorate your senses as you undulate through the woodland, heath, and lakes of Pippingford Park Estate. But when the sun goes down, the adventure ramps up as lighting displays and glow sticks lead the way.


11am: Half marathon day trail
2pm: 10km day trail
7pm: 10km night trail
With all runners taking part to support Macmillan, enjoy being in stunning surroundings with fellow participants doing whatever it takes to support people living with cancer.
Please make sure you have read our Terms and Conditions before signing up.
The Run The Trail experience
We'll support you from the moment you sign up to the moment you cross the finish line.
Free Macmillan running top
Clearly marked route
Medical assistance
Post event sports message
Regular e-newsletters to keep you up to date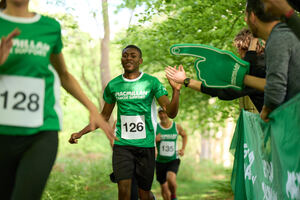 How your money helps
Donations make up 98% of our annual income so we simply couldn't do what we do without you. By pledging to raise at least £200 when you take part in Run the Trail, you will be helping to fund our vital services to help people living with cancer.
Ready To Join
By joining us you'll know that you're helping improve the lives of people living with cancer in the UK today.
Event Accessibility
Guide and support dogs are welcome at this event.

For participants who need a guide to make this event accessible to them your guide can accompany you free of charge, but they must register for the event. Please email running@macmillan.org.uk to let us know and we will provide a discount code to waive their registration fee.

Due to the nature of this event it is not accessible for wheelchairs.

If you have any questions about whether this event would be suitable depending on your needs, please get in touch and we will be happy to see how we can accommodate you.
Volunteering
We need the enthusiasm and experience of our volunteers to make this event special. If you would like to help us deliver this event then we would love to hear from you. Please email the volunteering team to express your interest and we can discuss how you can support on the day.
Run the Trail - Frequently Asked Questions
Got a question about taking part? Most questions can be answered by the event FAQs. Otherwise you can also get in touch with the Macmillan team by calling 0300 1000 200 or emailing running@macmillan.org.uk.
Before the event
What is the address for the event venue?

Is there parking at the venue?

How much is entry to the event?

Will I get sent a Macmillan running top?

Can I transfer my place to another person?

When does registration to the event close?

What if I become injured or need to cancel my place?

What if I want to change the trail I want to run?

When will I receive my official race day information?

Do I have to run? Can I walk a trail?

What is the minimum age limit?

Fundraising
Is there a fundraising target?

How do I set up my fundraising page?

When do I have to reach my £200 fundraising pledge?

If I sign up with a team, does each team member have to raise the minimum fundraising pledge?

At the event
Will there be a bag drop at the event?

Will there be toilet facilities?

Can my family and friends come to support me?

What happens if I fall ill or get injured on the event?

Do I need a head torch if I'm taking part in the night trail?

Do I need to share a negative COVID-19 test to take part?