We have now closed our charity place registrations for 2022. Our London Marathon 2023 applications will open in August.
How to enter the London Marathon
Secure a charity place for the London Marathon
Our charity place applications have now closed for the 2022 London Marathon. We will opening our 2023 applications in August, so watch this space!
Use your ballot place for the London Marathon
If you were lucky enough to get your own place through the TCS London Marathon public ballot and would like to raise money for Macmillan, please register your own place with us. There's no fundraising pledge, just raise as much as you can! and get all the great perks of being part of the team!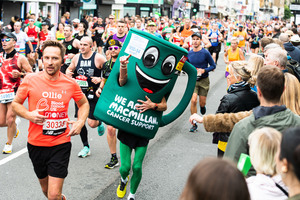 An amazing day, running for an awesome charity, thanks for the support along the route!
Why Should I Join Team Macmillan?
Whichever way you choose to join Team Macmillan, we'll support you every step of the way with:
Our fundraising pack with great tips to help you hit your target and training advice best suited your challenge
Your free Team Macmillan technical running vest or t-shirt, plus iron on letters to customise your kit.
Support via emails to make sure you're in the know with everything Team Macmillan
Cheer points that set the standard and make such a different and your head towards the finish line
Most importantly we'll provide you with a reason to keep going because you'll know that you're helping improve the lives of people living with cancer.

Please make sure you have read our Terms and Conditions before signing up. You must be aged 18 or over on the day of the event to take part.
FAQ
You must be over 18 to apply to run in the London Marathon.
Please read the terms and conditions of the event for Macmillan.
Please call 0300 1000 200 or email running@macmillan.org.uk if you have any questions.
I have been successful in London Marathon ballot after already registering as a Macmillan charity place runner. What shall I do?

If you have found out, you have been successful in the ballot after securing a London Marathon charity place with Macmillan we ask that you use your ballot place and we will refund you the £100 registration fee.

Please can you email running@macmillan.org.uk to inform us of the change.

I have been successful in London Marathon ballot and want to join Team Macmillan as an own place runner?

Fantastic! We would love for you to join Team Macmillan for the 2022 event. Please do sign up via our own place form on our website. There is no minimum fundraising target and we ask that you raise as much as you can to support people living with cancer.

I have been unsuccessful in the London Marathon ballot and want to apply for a charity place with Macmillan.

Applications for our charity places are still open. Please do complete the apply for a charity place form on our website. If successful in securing a place there is a registration fee of £100 and the minimum sponsorship is £2,500. Places will be awarded based on your motivation for choosing Macmillan and how you will raise the minimum sponsorship. Registration fee will not be taken unless the supporter is successful.

When will I find out about my charity place application?

We will be allocating place up until June 2022.

What is the difference between a charity place and a own place?

A charity place is a place issued by Macmillan Cancer Support and a ballot place is allocated by London Marathon Events.

What is a charity place token?

This is a short online process you need to link your charity place and personal details with event organiser, London Marathon Events. You will receive this information via email between April and July in 2022.

How long will it take for my fundraising pack/running top to arrive?

Your digital fundraising pack and kit are sent out shortly after signing up. If you do not receive your fundraising pack or kit three weeks after you place has been confirmed with us then please contact with us by emailing running@macmillan.org.uk.

Does Macmillan have a post-race reception?

Yes, we do! Invitations will be sent via email in August 2022 to all Macmillan runners. This is a fantastic opportunity to celebrate your marathon achievement you're your family and friends. Runners will be allowed to bring two guests along on the day.

Will Macmillan have cheer points on the course?

Yes! We have 9 cheer points around the course. We'll be at Greenwich, Rotherhithe, Shadwell, Limehouse, Canary Wharf, Monument, Blackfriars and Embankment.

Where to watch the London Marathon?

If you're not running the marathon (or you have supporters that want to catch a glimpse of you as you speed along) there are many great spots along the route to cheer people on. We have our own Macmillan cheer points and the London Marathon is incredibly supported the whole length of the route.

There are some amazing places along the route where crowds are generally bigger so if it's atmosphere you're after then spectating from the Cutty Sark, Tower Bridge and The Mall are often top spots. If your main focus is on making sure you see a loved one running then you might want to opt for slightly less busy spots (generally south of the river - apart from near the start at Greenwich Park and the Cutty Sark).

Wherever, you decide to watch from the key is to make sure you arrive nice and early so you don't risk having to fight the crowds. Public transport will also be very busy on the day so you will want to take that into consideration as well.

For those who want to watch but can't travel into London, the marathon will be televised by national and international broadcasters.

How long is the London Marathon?

The London Marathon course has a total length of 26.2 miles (42.195 kilometres) and we'll be there along the way to cheer you on. For a long time the standard marathon distance was run over closer to 25 miles but at the 1908 London Olympics it was lengthened to today's 26.2 miles.

The reason for this changes is allegedly that Queen Alexandra requested that the race start on the lawn of Windsor Castle and finish in front of the royal box at the Olympic stadium.

So if you hit the dreaded wall during that last little bit then you have someone to blame!

Who is sponsoring the London Marathon 2022?

Tata Consultancy Services (TCS) are the new title partner of the London Marathon taking over from Virgin Money, with a six-year partnership covering the 2022 to 2027 London Marathons
Your Impact
2021 was our biggest marathon team yet, 1200 of members of Team Macmillan took part on the 3 October 2021 to support those living with cancer. Donations make up 98% of our annual income, so we simply couldn't do what we do without you.
Ready To Join
Our charity place applications have now closed for the 2022 London Marathon. We will opening our 2023 applications in August, so watch this space!