The organisers of Dragon Ride have confirmed the event will be postponed from 6th June 2021 to the 26th September 2021. We hope our cyclists will be able to join us on this new date.
About The Event
As one of the UK's most iconic and respected cycling events, Dragon Ride captures the essential spirit of Wales, allowing riders to cycle through the breath-taking landscape of Brecon Beacons and experience the wild and rugged beauty of the Welsh countryside.
Catering for a large range of cyclists, Dragon Ride offers a variety of routes. From the Dragon Devil, an incredible 304km cycle where you take on the legendary Devil's Elbow and Devil's Staircase, to the Macmillan 100, a shorter 100km cycle around Brecon Beacons. Each route is designed to challenge riders with a series of difficult climbs and elevation
How to enter
Secure a charity place
We're proud to be the official Charity Partner for Dragon Ride 2021. This means you can apply for one of our guaranteed charity places and pay a fraction of the normal cost. Registration fee:
Macmillan 100: £10
Medio Fondo: £20
Gran Fondo: £20
Dragon Devil: £35
Sponsorship pledge: £150
Use your own place
If you've already secured your own place, you can still sign up to join Team Macmillan. Simply get in touch by calling on 0300 1000 200 or emailing cycling@macmillan.org.uk, and we'll give you all the information and support you need to be part of Team Green!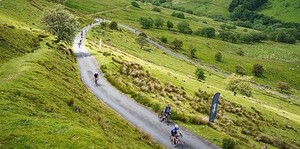 Ready to tackle the dragon?
Why should I join Team Macmillan?
As a Team Macmillan cyclist you'll receive:
A free Macmillan cycling jersey if you raise £200 by event day.
A fundraising pack bursting with fundraising tips and tricks to keep you motivated in the months leading up to the event.
Access to our online training materials
Regular e-newsletters to keep you up to date with Macmillan's news and activities
Access to our VIP tent on the day, with complimentary snacks and drinks.
Most importantly, we'll provide you with a reason to put in those months of training and fundraising, because you know that your efforts are helping to improve the lives of people living with cancer. Donations make up 98% of our annual income so we simply couldn't do what we do without you!
Read our full Terms and Conditions.
Pandemic promise
Our main priority is the health and wellbeing of our participants, volunteers and colleagues. We're committed to keeping you up to date with information regarding your event as we receive it.
If your event is cancelled or postponed, we will be in touch to let you know what options are available to you. If you have any questions, you can email the team at cycling@macmillan.org.uk and we'll be happy to help.
Event Accessibility
For questions regarding accessibility at this event, please contact the event organisers.
Ready to join?
By joining us you'll know that you're helping improve the lives of people living with cancer in the UK today.
Volunteering
We need an army of cheerers to make this event special. If running is not your thing or you have any family and friends who'd like to come and support you on the day, we'd love them to join our volunteer team!
See other events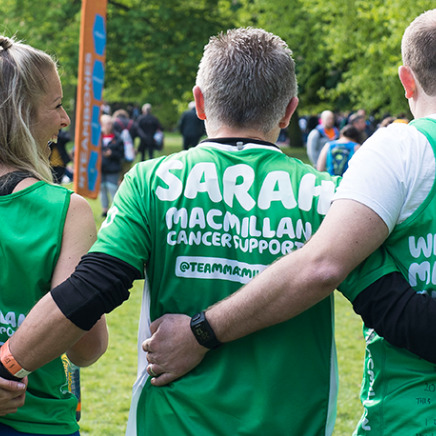 Are you looking for a different event?
If this event doesn't quite fit the bill, there are loads more to chose from. Go back to the events listing to find the perfect event for you.
View all events