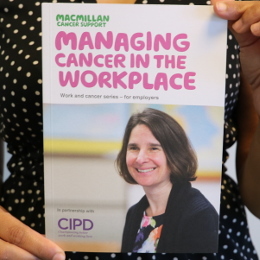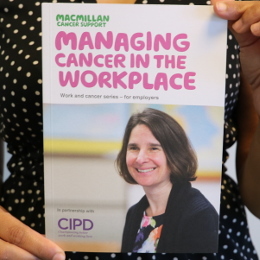 This booklet helps employers to support staff affected by cancer.
View online
You can also order a physical copy of this booklet on
be.macmillan.org.uk
with ID: MAC12891_E05_N
This booklet helps employers to support staff affected by cancer.
About this booklet
This booklet is about how you can support people affected by cancer in your workplace. It is for anyone who is a manager, an HR professional or an employer.
This booklet has information about:
- practical actions you can take, including examples of best practice
- your responsibilities as an employer and your employees' rights
- understanding your employee, whether they have cancer or are caring for someone who does
- how to reduce the impact on your organisation.
This booklet also has information about the extra support Macmillan could offer your organisation, including more training, resources and consultancy. This programme is called Macmillan at Work.
Visit our online information for employers.
Help with work
We have information and an advice service for anyone who has to cope with cancer while they are working or running a business
Online Community
An anonymous network of people affected by cancer which is free to join. Share experiences, ask questions and talk to people who understand.
Help in your area
What's going on near you? Find out about support groups, where to get information and how to get involved with
Macmillan
where you live.