A sentinel lymph node biopsy is a way of checking the lymph nodes closest to the melanoma.
If you have melanoma, a sentinel lymph node biopsy (SLNB) is a way of checking the lymph nodes closest to the melanoma. Your doctor might offer an SLNB if your melanoma is between 1 and 4 mm thick. An SLNB is not suitable for everyone. Your surgeon or specialist nurse will explain if an SLNB is right for you.
An SLNB is a small operation that is done under a general anaesthetic. It is done at the same time as surgery to remove the melanoma (wide local excision). You may have an SLNB even if the lymph nodes are not swollen.
The sentinel nodes are the first ones that lymph fluid drains to from the melanoma. This means that if the melanoma has spread to nearby nodes, the sentinel nodes are most likely to be affected.
An SLNB can tell your doctors more about the stage of the melanoma. It helps them plan the best treatment for you.
If there are no melanoma cells in the sentinel lymph nodes, it is unlikely that it has spread to other lymph nodes. This means you will not need to have surgery to remove them
If there are melanoma cells in the sentinel lymph nodes, your doctor may recommend that you have further surgery. This is to remove all the lymph nodes close to the melanoma. Removing all the lymph nodes can increase your risk of lymphoedema.
Your cancer doctor will talk to you about whether an SLNB is suitable for you. They will help you decide whether to have the test or not.
To check for melanoma, the surgeon has to find out which lymph nodes are the sentinel lymph nodes. On the day of surgery, or sometimes the day before, the doctor injects a harmless amount of radioactive liquid into the area of the melanoma. This is the same area where you had the excision biopsy. The radioactive liquid drains into the lymph nodes closest to the melanoma. These are the sentinel lymph nodes. The radioactive liquid makes the sentinel lymph nodes mildly radioactive.
Step 1: Radioactive liquid being injected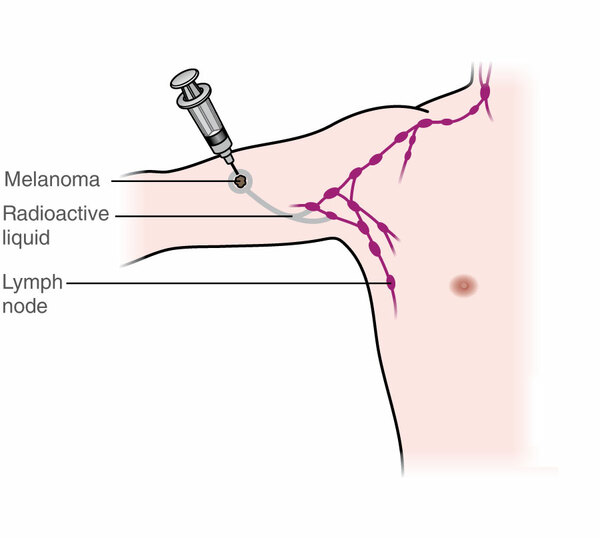 During the operation, the surgeon uses a handheld machine to find the lymph nodes that have picked up the radioactivity.
Step 2: A probe detects radioactivity in the lymph nodes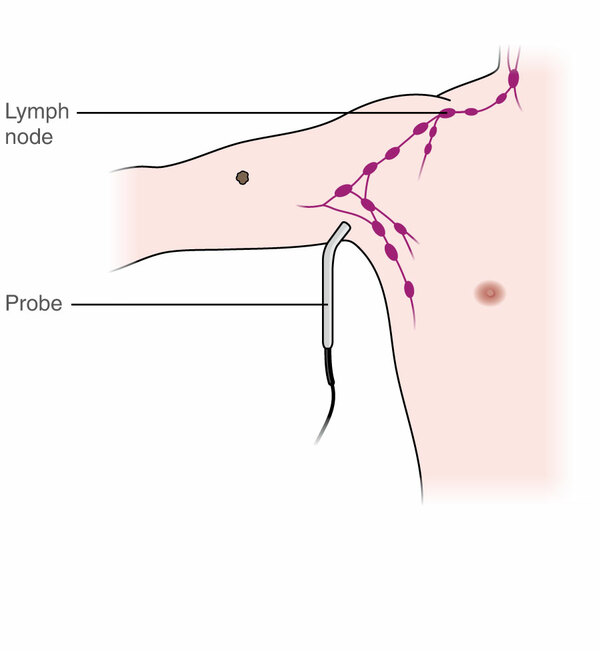 The surgeon may also inject a blue dye into the melanoma during the operation. This stains the sentinel lymph nodes blue. The lymph nodes that pick up the radioactivity, or become blue first, are the sentinel lymph nodes.
Step 3: Blue dye is injected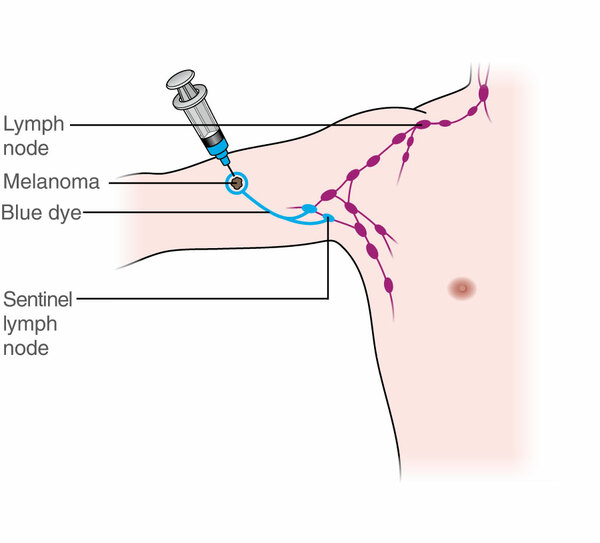 The surgeon can then remove blue or radioactive nodes (sentinel nodes). These are looked at under a microscope to check for melanoma cells.