The immune system is the body's defence against bacteria, viruses and other foreign organisms, or harmful chemicals. It has to work properly to protect us from these things in the environment, which may cause infections.
The immune system has three parts:
the skin and mucous membranes
proteins produced by the body, which are in our body fluids
blood and lymph cells.
The skin and mucous membranes
The skin is important in protecting the body and our internal organs against infection. It also produces an oil which keeps the skin slightly acidic. This helps control the growth of any harmful organisms on your skin.
The mucous membranes also act as a protective barrier. They line areas of the body that are more open to germs. For example, the membranes of the mouth, nose, throat, digestive system, urethra (tube we pass urine out of) and vagina. They help stop harmful organisms and germs getting into your body. The cells of the mucous membrane also produce fluids, such as saliva in the digestive system, that help your body to destroy harmful organisms.
Your body also has its own natural and helpful organisms. These prevent more harmful organisms from taking over.
Proteins
Special proteins and chemicals are present in the fluids your body produces. If organisms do get into your body, the proteins attack them in various ways. They often do this by helping dissolve the organisms.
Blood and lymph cells
Blood and lymph cells are produced by the bone marrow and the lymphatic system. The bone marrow is the spongy material in the middle of some of our bones. The lymphatic system is a system made up of organs, such as bone marrow, the thymus, the spleen, which contains white blood cells that fight infection and lymph nodes.
Lymph nodes are found throughout the body. They are sometimes called lymph glands. They are small and bean-shaped, and connected by a network of fine tubes called lymphatic vessels. Lymph nodes filter bacteria (germs) and disease from the fluid (lymph) that circulates around the lymphatic system. When you have an infection, the lymph nodes often swell as they fight it.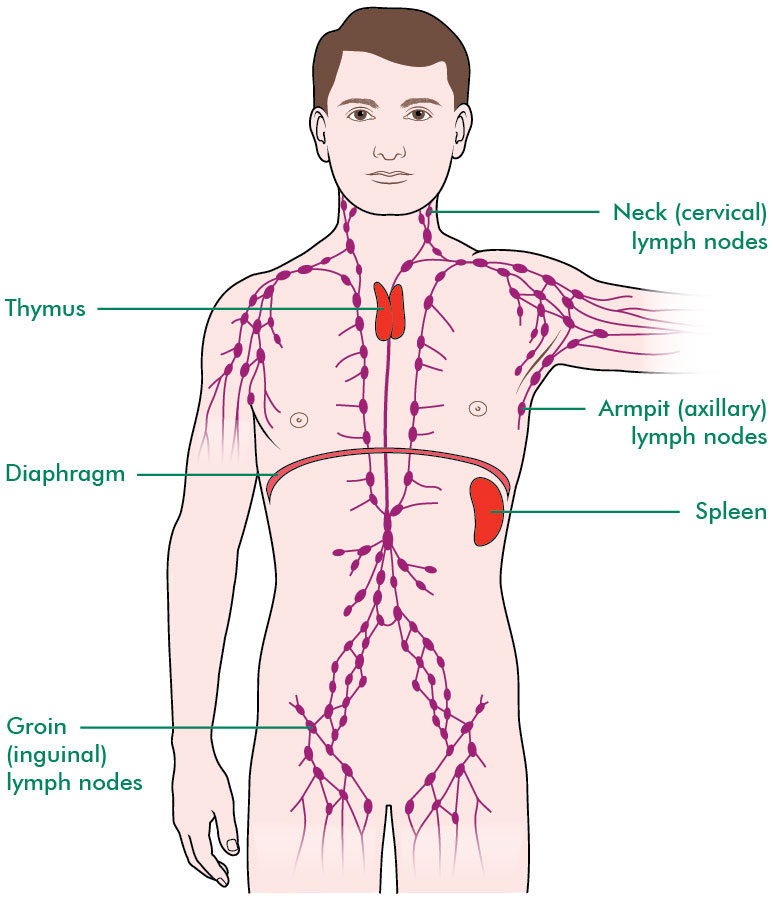 Different types of white blood cells work to destroy organisms that get into the body. They travel through your blood or lymphatic vessels to the area of damage or infection. Then they destroy the harmful organisms.