This information is about the parts of your body that are involved in sex and sexual response.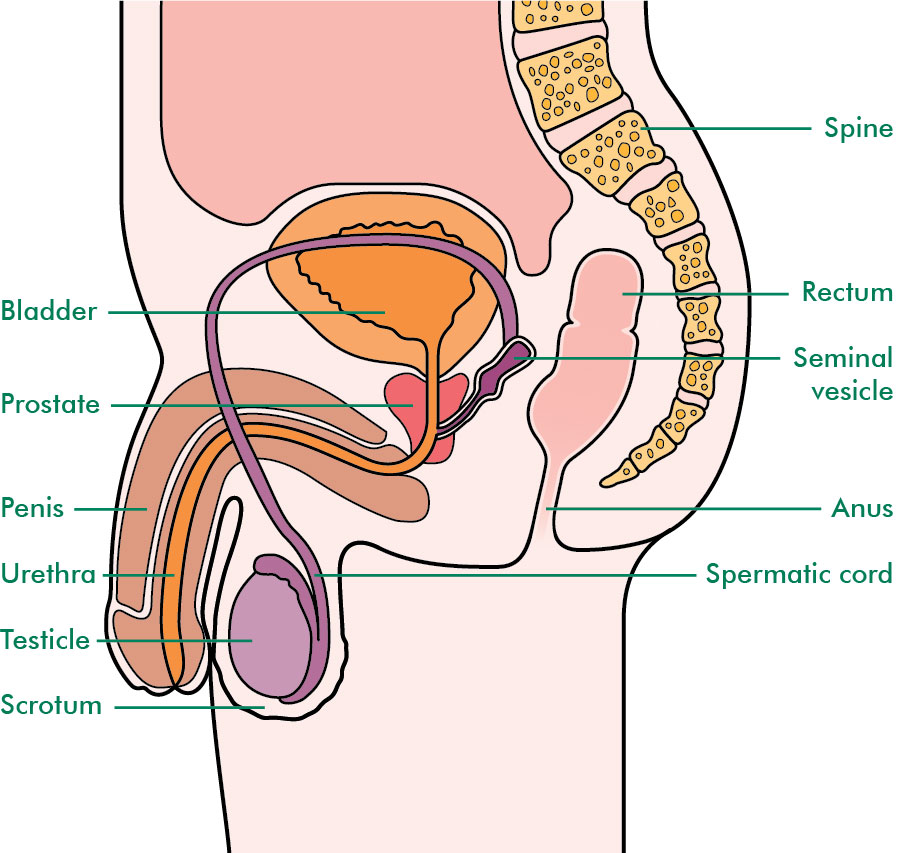 The penis
The outside of the penis is partly covered by the foreskin, unless it has been removed (circumcision). At the very top of the penis is a slit that opens to the urethra. This is a tube that carries urine and semen through the penis.
Two cylinders of spongy tissue (the corpus cavernosa) run the length of the inside of the penis. When a man becomes sexually excited, blood flows into these, making the penis stiff and erect.
The testicles and sperm
At the base of the penis is the scrotum. This is a bag of wrinkly skin that contains two testicles. The testicles make the hormone testosterone, which is important for sex drive. They also make sperm. Just before orgasm, sperm leaves the testicles through two long tubes. These are called the spermatic cords. They carry sperm to the ejaculatory duct inside the prostate gland.
The prostate gland and seminal vesicles
Sperm mixes with different fluids to form semen. These fluids are made in:
the prostate gland, which is just under the bladder
the seminal vesicles, which are two pouches between the bladder and the rectum.
They are joined by tubes to the ejaculatory duct in the prostate gland.
During orgasm the prostate contracts, pushing semen out of the penis. This is called ejaculation. The contractions help create the intense sensations felt during orgasm.
Erogenous zones
These are sensitive areas of the body. When touched or stimulated, they may produce sexual arousal.
Your penis, testicles, prostate and anus are erogenous zones. Your chest and nipples can also be sensitive. You may have other erogenous zones on your body that respond to touch. The sensitivity of these areas varies from man to man.