Newsletters for health professionals
Sign up for Macmillan's newsletters for healthcare professionals and find out what you'll receive as a Macmillan Professional.
Mac Update is a quarterly e-newsletter for health and social care professionals who may not work in a Macmillan post, but are interested in our work and services.
It contains the latest news, updates on information and support resources, and details of new initiatives and campaigns.
If you're a Macmillan Professional, you'll already receive Mac Mail, which is very similar to this email but contains additional Macmillan-specific information.
Macmillan's GP Advisers produce a quarterly e-newsletter to inform GPs, primary care cancer leads and the wider primary care community.
As a Macmillan Professional you'll get a variety of information by email and post. Here's a summary of what you will receive:
Mac Voice
Mac Voice Magazine is a quarterly print magazine full of news and features, written by Macmillan Professionals for Macmillan Professionals.
Sharing Good Practice is a supplement to Mac Voice. Each issue focuses on one topic, such as primary care or end of life, and is a useful deep dive into that area of cancer care.
As of Spring 2021, we will no longer produce Mac Voice or Sharing Good Practice, but you can stay up to date with the latest articles on our blog for healthcare professionals.
Download your free digital magazine
Get the latest issue of Mac Voice below, available as a PDF download.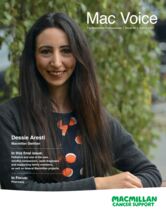 Download Mac Voice (Spring 2021)
Missed an issue? Download our 2020 issues for Spring, Summer and Autumn.
Mac Mail
Mac Mail is a bi-monthly e-newsletter for all Macmillan Professionals. It contains our latest news, updates on learning and development opportunities and details of new initiatives and campaigns.
Inside Information
Inside Information is a quarterly email summary of new information resources. It's for Macmillan Information and Support Professionals and anybody interested in our cancer information. To join the mailing list, email cancerinformationteam@macmillan.org.uk.