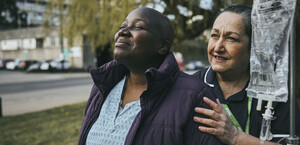 What's Giving Tuesday? Giving Tuesday is not your average Tuesday. It is a day of global giving which falls just after Cyber Monday and Black Friday, where everyone, everywhere can do something to support the causes that mean something to them. You can follow the day on social media by searching for the hashtag #GivingTuesday. This year, we would love for you to join us in celebrating Giving Tuesday on 30th November 2021.
Get involved this Giving Tuesday
Take a look below at all the ways you can get involved, to help us support people living with cancer.