Skin Cancer Awareness Month
May is Skin Cancer Awareness Month. Whether you are directly affected by skin cancer, or you just want to find out more, we have information that can help.
For Skin Cancer Awareness Month we have answered some of the most frequently asked questions about skin cancer.
Skin cancer frequently asked questions
What are the different types of skin cancer?
There are three main types of skin cancer
basal cell carcinoma (BCCs)
squamous cell carcinoma (SCCs)
melanoma.
BCCs and SCCs are different from melanoma. They are called non-melanoma skin cancers and are more common than
melanoma
.
What is the main cause of skin cancer and am I at risk?
Most skin cancers are caused by skin damage that happens from exposure to ultraviolet (UV) light from the sun. All types of skin are at risk of sun damage and skin cancer.
Those who are most at risk of developing skin cancer are fair-skinned people who tend to burn easily, or freckle in the sun. People with darker skin still have a risk of developing skin cancer.

It is important for everyone to follow skin protection advice and to check their skin regularly. If you are worried, we have more information about causes and risk factors of non-melanoma skin cancer and causes and risk factors of melanoma.
What can I do to prevent skin cancer?
The best protection is to cover up and be safe in the sun. It's important to check your skin regularly for any changes. We have more information about preventing skin cancer.
How can I be safe in the sun?
Soltan and Macmillan recommend 5* UVA with at least an SPF 30.
Drink plenty of water. Cover up with a hat and long sleeves. Wear a wide-brimmed hat to protect your face and neck.
Wear UV blocking sunglasses to protect your eyes.
Don't forget to apply sun cream to those easy to miss places - lips, tops of ears, back of neck, feet and scalp.
Limit your time in the sun and stay in the shade between 11am and 3pm.
Do not let your skin go red or burn.
Do not use a sunbed or sunlamp. If it is important for you to look tanned, use fake tan lotions or sprays.
How should I properly apply sun cream?
Many people do not use enough sun cream. Experts say an average-sized adult needs at least 6 to 8 teaspoons of lotion to give the SPF coverage it says on the bottle.
Make sure you apply to clean and dry skin.
Apply sun cream about 20-30 minutes before you go out into the sun.
Reapply every 2 hours, or immediately after swimming, towelling dry or if you've been sweating a lot.
Top tip: Make sure your sun cream is not out of date. Most sun creams have a shelf life of two years. If the product is seeping liquid or smells 'off', it should be replaced.
How much SPF do I need?
Soltan and Macmillan recommend 5* UVA with at least an SPF 30. Follow the instructions on the bottle and re-apply as recommended, particularly after swimming.
What are the symptoms of skin cancer?
Different types of skin cancer can vary in how they look. Most commonly, non-melanoma skin cancer can appear as:
smooth and pearly-white
waxy
a firm, red lump or may look sunken in the middle
a pearly brown or black lump if you have darker skin
a flat, red spot that is scaly and crusty a pale non-healing scar.
Look out for areas of skin that never completely heal, feel itchy and bleed sometimes, develop a crust or scab or develop into a painless ulcer. We have more information about the signs and symptoms of melanoma.
If you notice anything unusual on any area of your skin, make an appointment to show it to your GP straightaway. Make sure you check your skin all over, including the palms, soles of the feet or under the nails.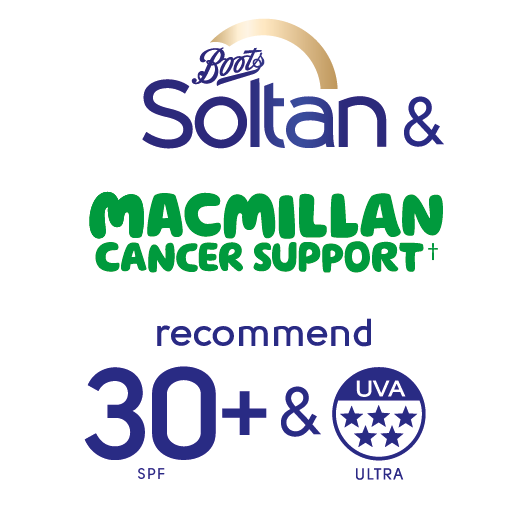 Our Sun Safety Partner for 2023
We're proudly partnering with Soltan, as our official Sun Safety Partner, to ensure everyone has access to the information and protection they need to stay safe in the sun.
Support for people affected by skin cancer
We provide services for people affected by cancer. This includes understanding diagnosis and treatment, financial advice and offering a listening ear when times are tough. If you or a loved one has been diagnosed with skin cancer, there is lots of support available.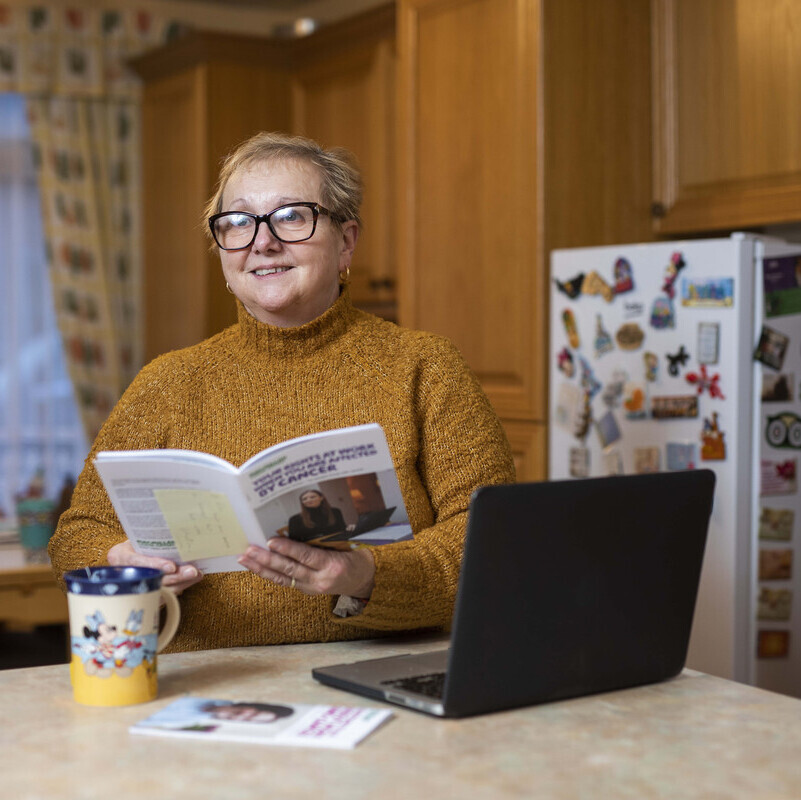 Information on our website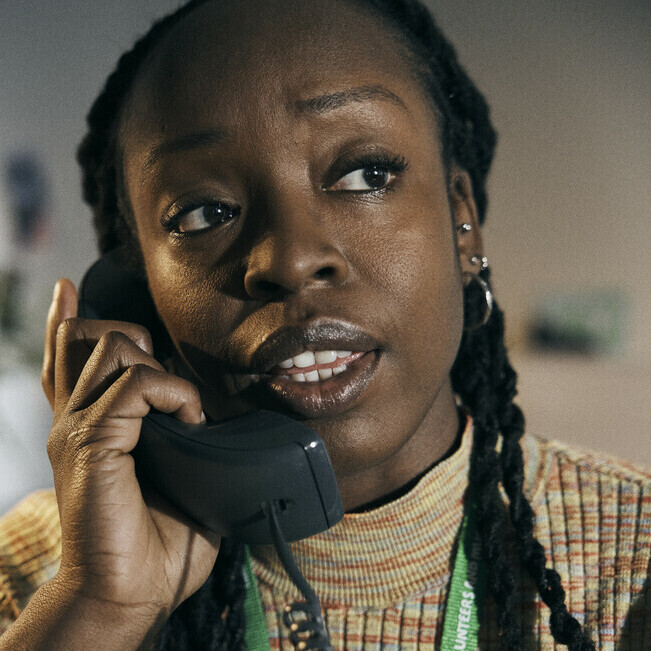 Accessing Macmillan services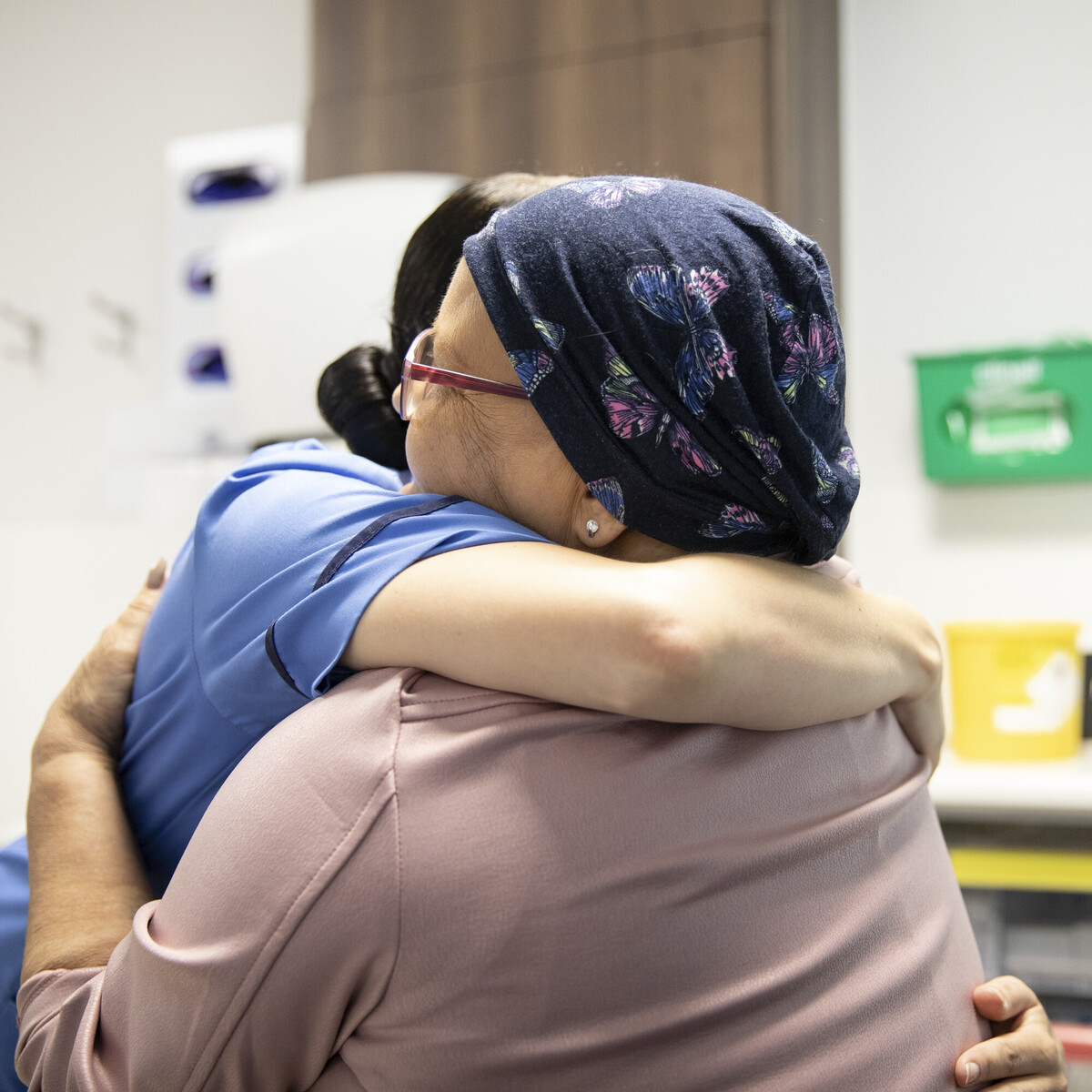 Support in your area