The number of people affected by cancer in Wales is rising. Although more people are surviving, there are still too many people dying from cancer or not living well beyond their treatment.
They may have long-term side effects such as fatigue, incontinence or lymphoedema1. We need a new ambitious approach to match the changing nature of cancer and its treatment, so that many more people survive and many more people live well with and beyond a cancer diagnosis.
After the 2016 election, the next Welsh Government must deliver person-centred cancer care that consistently provides every person who receives a cancer diagnosis with outcomes for treatment, care and experience that match the best in Europe.
In Wales, over 19,000 (WCISU Feb 2015) people are diagnosed with cancer every year and more than 130,000 people are currently living with or beyond cancer, almost 4.5 percent of the population. By 2030 it is expected that 250,000, almost eight percent of the Welsh population, will have had a cancer diagnosis and one in two of us will be affected by cancer at some point in our lives.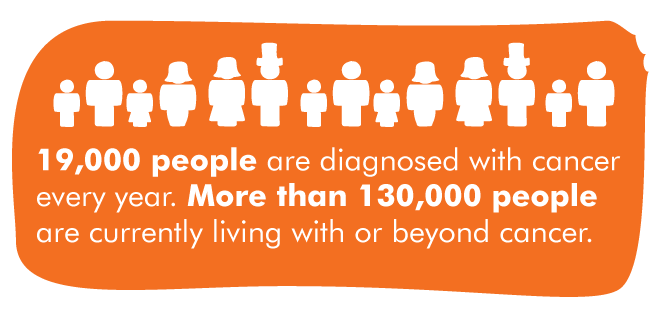 'I didn't want people looking at me. When I looked in the mirror I felt like it wasn't me and I felt ashamed of what I saw. The truth is that the support I had from Kathy, Wendy and Macmillan gave me the strength to survive.' - David, Neath Abbey
The good news is that survival rates are steadily improving and many people recover. On average 70 percent2 of Welsh residents diagnosed with cancer can expect to survive
at least one year. However, improving survival rates in Wales need to be considered in the context of even better survival rates in many other European countries.
Earlier this year, Macmillan Cancer Support released analysis that showed cancer survival rates in Wales are at or behind a level that many other European countries had already achieved by the late 1990s3.
Evidence from the The CONCORD-2 global study4 compared the five-year cancer survival rates for a range of common cancers and revealed that survival rates in Wales for lung, breast, colon and stomach cancer are trailing 10 years behind other European countries. Similarly, a Eurocare 5 population based study reinforces these findings5.
We know the NHS is struggling to meet current demand. A transformation in the way we treat and care for patients with and beyond cancer is needed if we are to close the gap between Wales and our European counterparts. Continuing our drive to improve outcomes, quality of life and reduce instances of unacceptable variation for patients in Wales is the challenge we all face.
'Cancer is so varied and each experience is unique and personal. It's all about the individual.  As soon as you lose sight of the individual, you lose sight of humanity'- Macmillan's Welsh Assembly Election Planning Group Member, July 2015
The patient voice is a pivotal driving force behind delivering positive change. It is Macmillan's ambition that future cancer strategies are founded upon patient experience and the views of those directly affected by cancer. We would expect the next government to embrace and respond to the insights of surveys such as The Wales Cancer Patient Experience Survey (WCPES) 2014 and successive surveys to ensure that patients' voices and experiences inform future cancer strategies.