Chemotherapy given into a vein (intravenous) goes directly into your blood and is carried to all areas of your body.
It can be given through:
Your nurse will check that the cannula, line or port is working properly before giving you chemotherapy.
Cannula
A cannula is a thin tube which is put into a vein in the back of your hand or lower arm. Your nurse will place a see-through dressing over it to make sure it stays in place. Having a cannula put in can be a bit uncomfortable or painful, but it shouldn't take long and any pain soon wears off. The cannula is removed before you go home.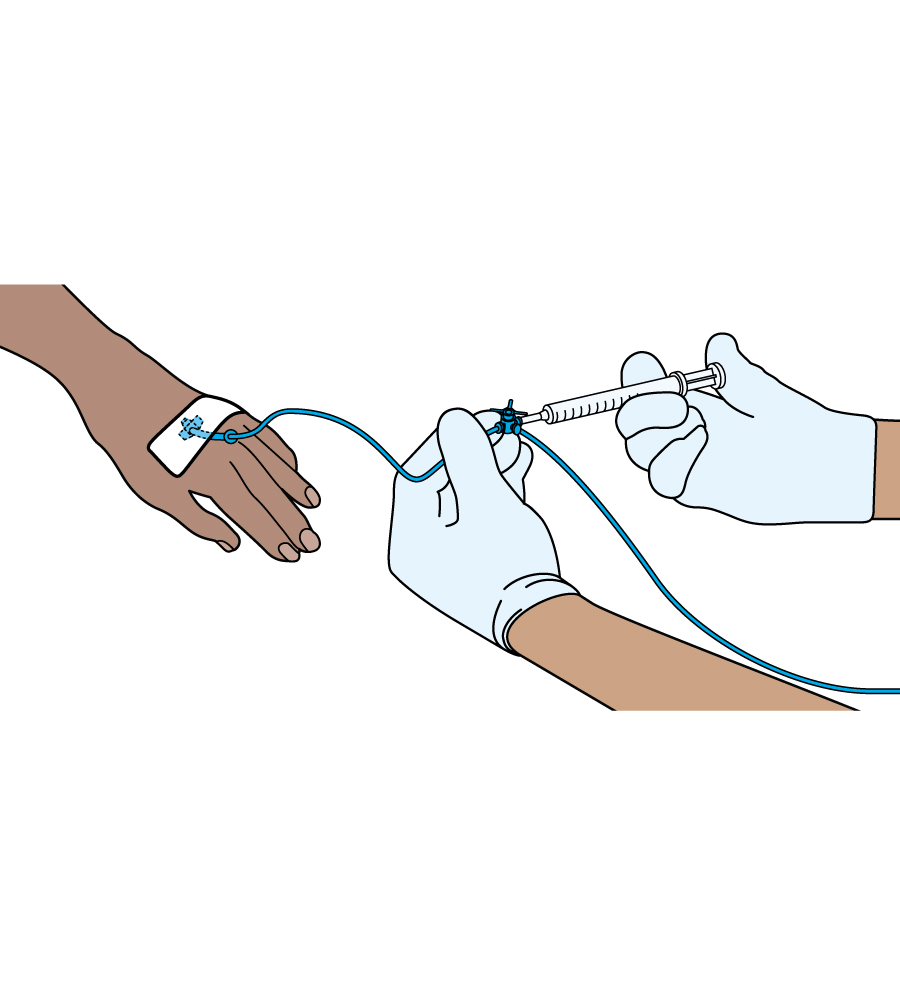 Central line
A central line is a long, thin, hollow tube that is inserted into a vein in your chest. They are sometimes called skin-tunnelled central venous catheters. But you may hear them called by brand names, such as Hickman® or Groshong® lines.
The line is put in under a general or local anaesthetic. It should be completely painless, but you might have a stiff shoulder for a couple of days. Once it is in place, the central line is either stitched or taped firmly to your chest to prevent it from being pulled out of the vein.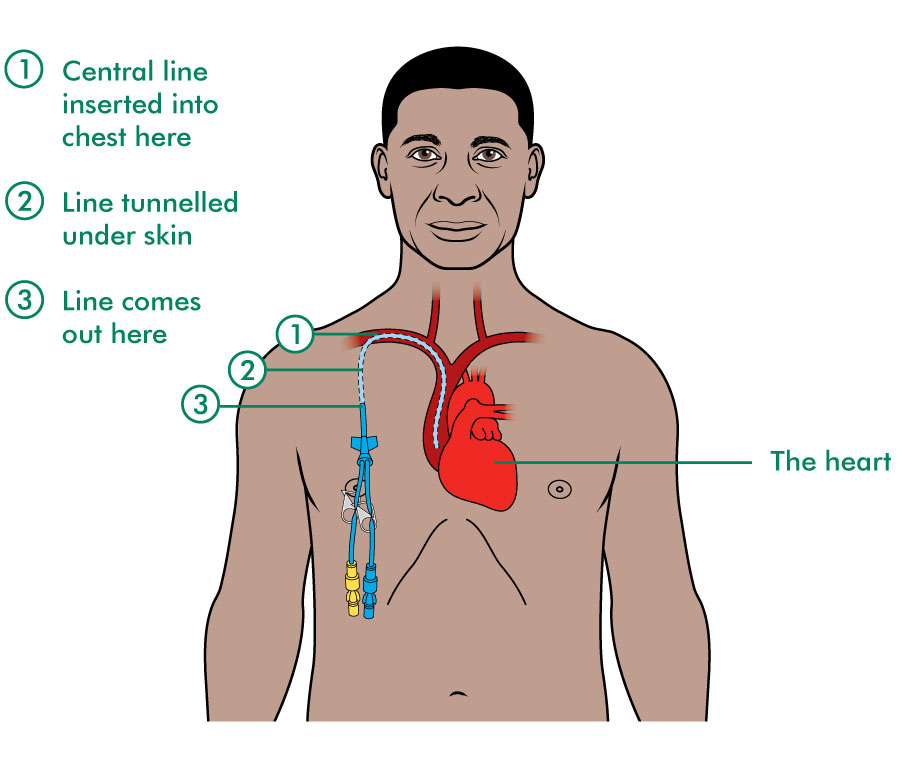 PICC (Peripherally Inserted Central venous Catheter) line
A PICC line is a long, thin, hollow tube that your doctor puts into a vein near the bend in your elbow. You'll be given a local anaesthetic to numb the area before the line is put in. The specialist nurse or doctor gently threads it along the vein until the tip sits in a large vein in your chest. The end of the line comes out just below the crook of your elbow. Once it's in place, the PICC line is taped firmly to your arm to prevent it being pulled out of the vein.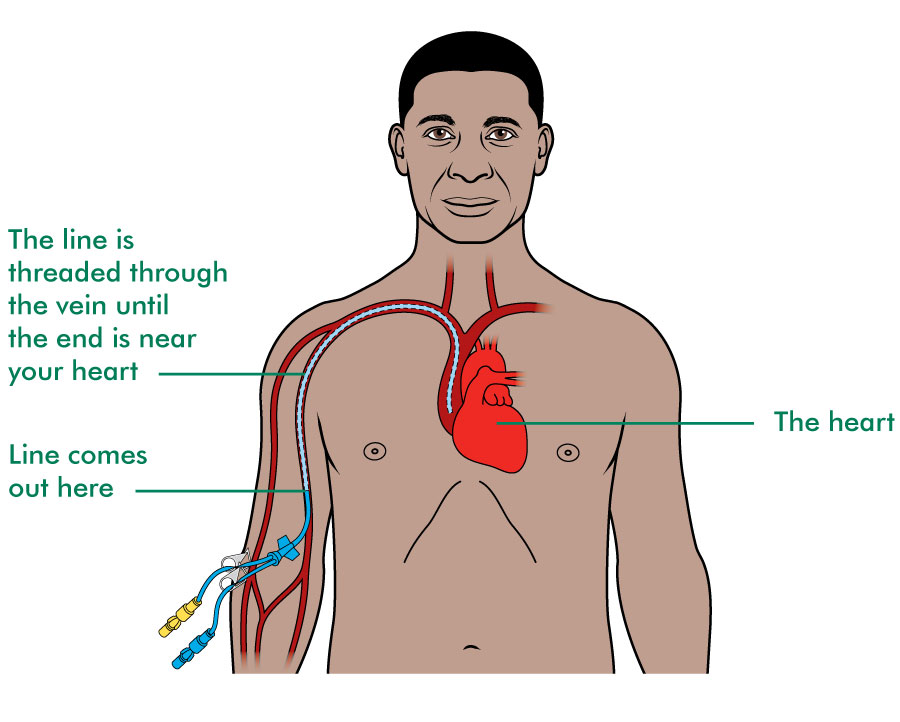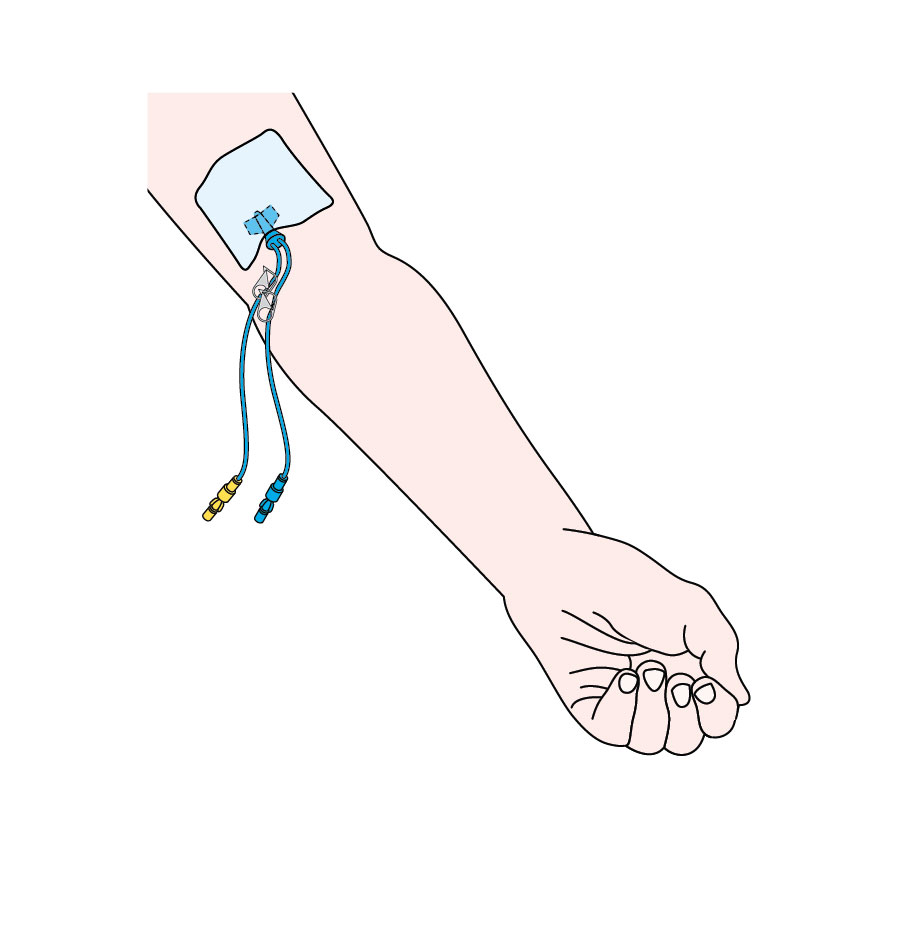 Implantable port (portacath)
An implantable port is a thin, soft plastic tube with a rubber disc (port) at the end. It can be put in under a general or local anaesthetic. The tube is inserted into a vein until its tip sits just above your heart and the port lies under the skin on your upper chest. Once it's in place, you can feel and see the port as a small bump underneath the skin of your chest, but nothing shows on the outside of your body.
To use the portacath, a special needle called a Huber needle is passed through your skin into the port. Your nurse can give medicines into the vein or take blood. The skin over the port can be numbed with an anaesthetic cream first so you don't feel any discomfort.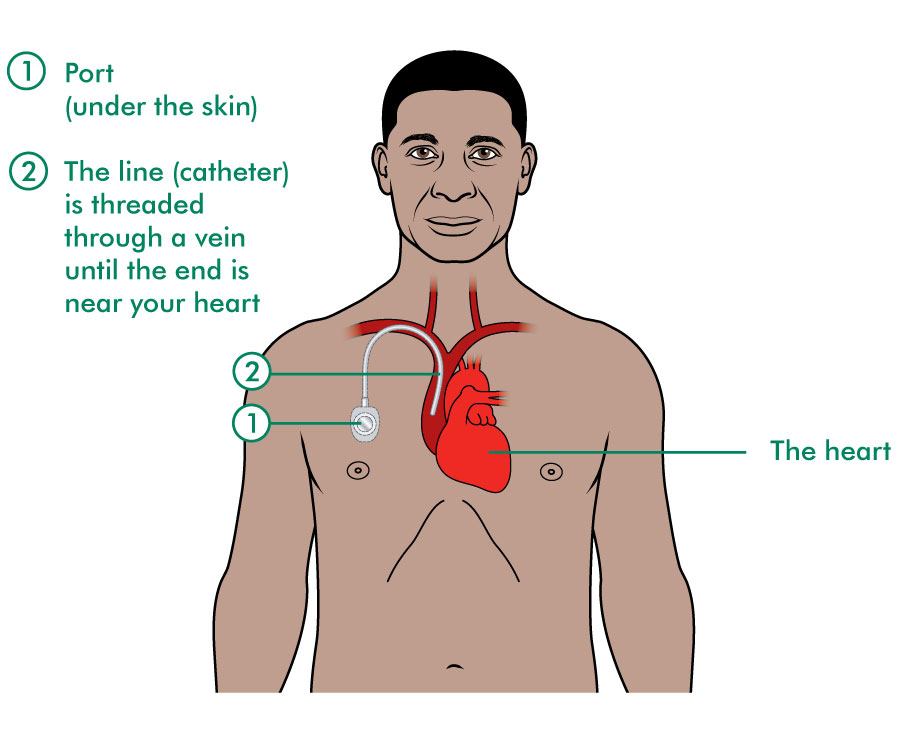 Your line or port after chemotherapy
If you have a line or port, it can be left in until your whole course of chemotherapy is over. This means you won't need a cannula or needles put into the veins in your arm every time you have treatment. You can also have blood tests taken from your line or port. Antibiotics, fluids or a blood transfusion can be given through it too.
When your course of treatment is over, the line or port will be taken out. A doctor or nurse will do this for you, usually in the outpatient department.
We have more information about central lines, PICC lines, and implantable ports.