Our body is made up of tiny building blocks, called cells. Cancer develops when some cells are damaged and our body can't repair them. The damaged cells keep growing out of the body's control. These are cancer cells.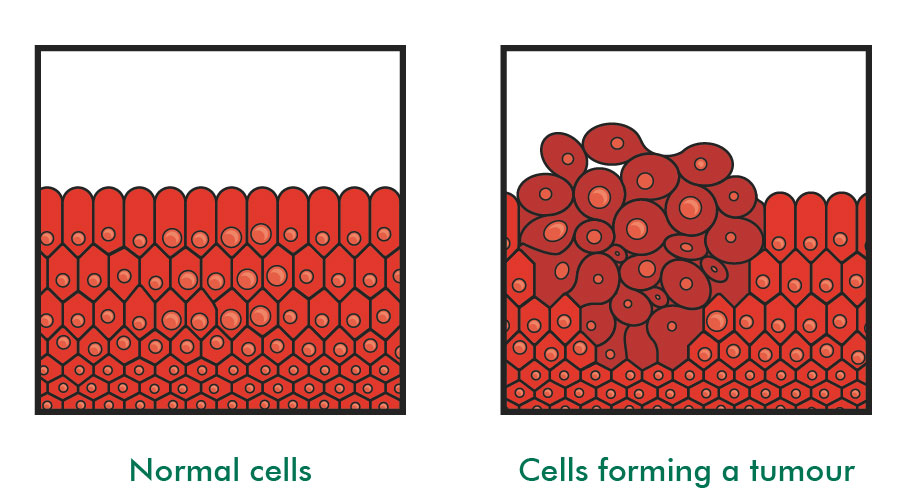 There are genes in every cell. All cancers are caused by changes (mutations) in genes. Genes contain the information a cell needs to work properly. This information is in a code called DNA (deoxyribonucleic acid).
Our body needs to make new cells to replace old or damaged ones. Genes control this process. They also tell cells how to repair damage. If a cell can't be repaired, or is not needed, genes inside the cell tell it to die.
The genes that control cell growth, repair and death are called oncogenes and tumour suppressor genes. Mutations in these types of gene can increase the chance of cancer developing.
Oncogenes
These genes encourage cells to grow and multiply. A mutation in an oncogene can lead to a cell growing and multiplying out of control.
Tumour suppressor genes
These genes help protect against cancer. They control cell growth. They also repair damage to DNA.
If a cell has a mutation in a tumour suppressor gene, it may lose the 'brakes' on its growth. The cell can then multiply out of control.
Some tumour suppressor genes repair damage to DNA. Doctors call them DNA repair genes or caretaker genes.
When there is a mutation in a DNA repair gene, the cell can't repair damage to itself. So cancer is more likely to develop.
Acquired mutations
Most cancers develop because of gene mutations that happen during a person's lifetime. Doctors call these mutations acquired mutations.
Acquired gene mutations happen in the part of the body where the cancer later develops. For example, gene mutations happen in the lungs before lung cancer develops.
Many things can cause gene mutations. These include:
getting older
things in our environment such as tobacco and sunlight
our hormones
our diet.
Doctors call substances that increase the chance of gene mutations carcinogens. Radiation and the chemicals in cigarette smoke are examples of carcinogens.
Usually, several gene mutations must happen in a cell before cancer develops. This can take many years. This is why cancer is more common in older people. Cancers caused by gene mutations that happen during someone's lifetime are called sporadic cancers.