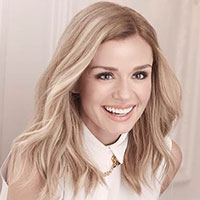 Singer Katherine Jenkins shares her recipe for hitting the right note if you're hosting or helping out at a Coffee Morning.
'Start your Coffee Morning with one of these mouth watering blueberry muffins and you'll be berry happy indeed'
Method
Preheat the oven to 150°C, 300°F, gas mark 2.
Line a muffin tray with 10 muffin papers.
In a large mixing bowl beat together the sunflower spread, sugar, eggs, milk and vanilla until light and fluffy.
Add the flour and baking powder and beat well until smooth.
Stir in the blueberries and spoon the mixture into the prepared muffin cases.
Bake in a preheated oven for 30-35 minutes until firm to the touch.
Allow to cool, remove from the tin and dust with icing sugar.
Ingredients (Serves 10)
110g (4oz) half-fat sunflower spread
50g (2oz) caster sugar
2 eggs, beaten
150ml (1/4 pint) semi skimmed milk
1 tsp of natural vanilla extract
300g (10½oz) plain white flour
2 tsp of baking powder
110g (4oz) fresh blueberries icing sugar, for decoration