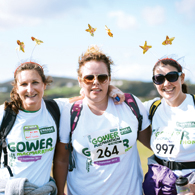 Every step counts
'In September, we held our annual Gower Macmarathon Walk. This stunning South Wales challenge has been a favourite on our calendar for 19 years and has now raised over £1million. Around 1,200 supporters a year lace up their boots to hike one of three distances – 2, 14 or 22 miles.
'The Macmillan Swansea committee started the Gower Macmarathon back in 1998 but these days it's so big that the Area Fundraising Manager and the Challenge Hiking Team help to organise it.
'Special thanks to our corporate sponsor Swansea Building Society for all their much-needed help with the event.'
Marion, Committee Chair, Swansea
Packing up MacCamping
'2016 saw the final weekend of our hugely successful MacCamping event. In June, lots of us came together for fun family camping in support of Macmillan. We've been doing it since 2010 and this year we raised an amazing £3,500.
'This year, our marquee hosted fun activities like communal BBQs, Mac's Got Talent and even the MacOlympics. A huge thank you to Cadbury's, camperbuyer.org and the staff at Hertford for their support over the years.'
Sue, Harpenden Committee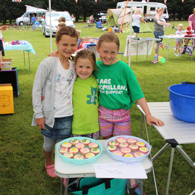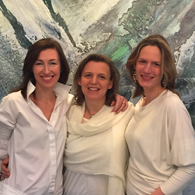 Feel more like you during treatment
'My mother, Diana, felt that her cancer diagnosis changed the way she and others saw her. That was my inspiration to change things.
'In 2013, I partnered up with Nikla. Her own experience of caring for her mother, Inga, highlighted the need to hold onto your identity. We reached out to doctors, nurses and patient groups, many affiliated with Macmillan, and confirmed that this is a wider problem.
'Our third co-founder Fiona, a wonderfully talented fashion designer, helped us create the result: a collection of highly functional clothing to be worn during treatment.'
Claire, Co-founder of Inga Wellbeing, a patient clothing company