About The Event
So, you think you've got what it takes to run 100K in May? We do too. Our 100K in May challenge is a great way to get fitter, get outdoors and raise money for people living with cancer.
Take to the pavements or hit the parks. Go short or go long. It's totally up to you. Most of our runners aim for 3.2k a day but go at your own pace. You can run it alone or as part of a group.
Run 100K, your way, before the 31st May.
This event is hosted on Facebook. Join the group to meet thousands of fellow challengers and get updates as you progress through the challenge.
How to enter
Step 1: Join the Facebook group
Step 2: Register for your free t-shirt
Step 3: Set up your custom Facebook fundraising page
There's no minimum fundraising pledge, just raise as much as you can!
Not on Facebook? No problem
If you're not on Facebook and would like to take part don't worry. Just email us on fundraising@macmillan.org.uk and we'll help.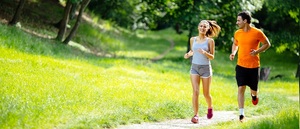 Why should I join Team Macmillan?
By registering in the Facebook group following the steps above you'll receive:
A free Macmillan t-shirt
Access to our friendly Facebook group and your fellow challengers
Fundraising support and weekly updates to make sure you go all the way to 100K!
Most importantly we'll provide you with a reason to keep going because you'll know that you're helping improve the lives of people living with cancer. Donations make up 98% of our annual income so we simply couldn't do what we do without you.
By taking part in this challenge, you accept that you must, as least, be at a basic level of fitness in order to participate. You also must be over the age of 18 to take part.
Frequently asked questions
Can I start the challenge late or early? What if I miss a day?

We will be encouraging everyone to start their challenge on 1st May and continue for 31 days. However, if you are joining the challenge later or you have missed a few days, you can continue into June or condense your running down into the remaining days.

Can we fundraise as a group?

Yes. If you would like to fundraise as a group then the lead fundraiser should complete the registration form and set up a Facebook Donate fundraiser as directed in the Facebook group. This page can be shared on behalf of the group.

How can I keep track of the number of miles I am doing throughout the month?

Strava, Fitbit or other fitness apps. We will also share a daily tracker for you to mark each day as you complete your miles.
Ready to join?
By joining us you'll know that you're helping improve the lives of people living with cancer in the UK today.