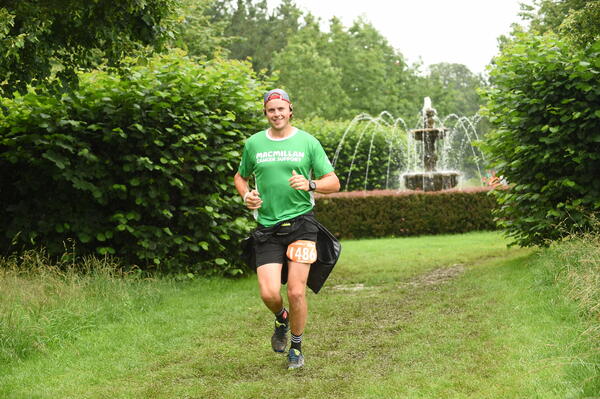 Energise your running experience and reconnect with nature by taking part in this off-road event that has a choice of distances to suit all abilities. Set in the beautiful surroundings of the Penshurst Place estate, the routes explore ancient parkland and gardens.
About The Event
How to enter
We are delighted to be the official charity for this fantastic event, so join Team Macmillan and we'll support you every step of the way. With multiple running distances, there is truly something for everyone. Throughout the day, athletes and spectators will be able to enjoy a fun-packed festival village featuring group warm-ups, live music and food and drink stalls.
There are two ways to get yourself signed up:
Secure a charity place
Our charity places are a great way to make a difference to people living with cancer. Macmillan are offering you a discounted place at Penshurst Place in their range of disciplines, with the below reg fees and fundraising pledges:
All colour runs - £5 reg fee and £100 fundraising pledge
All other runs - £10 reg fee and £200 fundraising pledge
To apply, simply sign up here. This will take you to official race website where you can select a 'Macmillan Charity Entry'.
Use your own place
Public entry for the Penshurst Place Run is now open on the official race website. If you want to support Macmillan then just tick our box when registering on the race website. If you already have a place with the event organisers, sign up here to let us know!
There's no minimum sponsorship, just raise as much as you can!
What distances are there?
Colour runs – 1K, 3.5K and 5K
5K
10K
Half Marathon
'I felt a real sense of unity with everyone involved.'
Why should I join Team Macmillan?
As a Team Macmillan runner you'll receive:
A free technical Team Macmillan running top with personalised name letters
A fundraising guide and resources
Regular e-newsletters keeping you in the loop in the lead up to race day
Most importantly we'll provide you with a reason to keep going because you'll know that you're helping improve the lives of people living with cancer. Donations make up 98% of our annual income so we simply couldn't do what we do without you.
Event Accessibility
For questions regarding accessibility at this event please contact the event organisers.
Ready to join?
By joining us you'll know that you're helping improve the lives of people living with cancer in the UK today.