Ravinder on using the Macmillan Support Line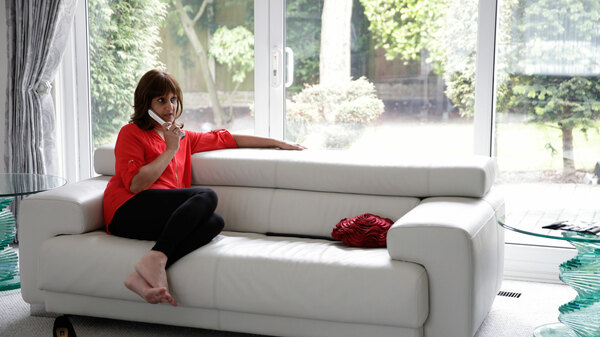 Ravinder initially went to her doctor about unexplained weight loss and a pain in her armpit. After several weeks and no sign of a referral in the post, she requested to be seen privately. Ravinder describes the period between seeing her GP, and finally getting the diagnosis, as being extremely tough. That's when she first contacted the Macmillan Support Line.
'It was actually nice to cry to someone.'
I think it was just nice to talk to somebody about how I was actually feeling, because I was very tearful at the time. It was nice to get it all off my chest. Obviously they couldn't give me the answer on whether it was cancer, but they offered me a lot of support - they were very caring and understanding.
It helped me to deal with my emotions – just to talk to somebody about what I was actually feeling, because I couldn't do that with my children and husband. I wanted to be brave in front of them and not upset them. Sometimes you can relate to someone better when you talk to a stranger over the phone than you can to your loved ones.
I called the Macmillan Support Line again the day after I had been seen to the consultant. I was crying at that point, but it was actually nice to cry to someone! It was a comfort for me to know that I could pick up the phone and someone was waiting for me at the other end. I called Macmillan quite a few times after that. I think it was after every chemotherapy appointment, and I called them when I was having my bad days. I called them in the evenings quite a few times, when I was on my own.
After I called, I'd feel a lot lighter. I had a phobia of needles as well so I explained that to them. It seemed a bit silly to explain to a loved one that I have a phobia of needles, but to a stranger it felt right actually.
'I would definitely encourage people to phone and get support.'
I would definitely encourage people to phone and get support because you do need somebody to talk to. The support line staff are trained in this field and they do get lots and lots of phone calls from people affected by cancer. When I did phone up, I could tell them anything and they weren't in any way judgmental - it was like a huge burden came off my shoulders. I even called the support line after I was told that I was in the clear too. Because you're on your own again. You've had a year full of doctors, nurses and support, and then when you're told that you're in remission, you question it – am I really better now?
I just got this feel-good factor. I felt really positive and I felt less afraid, less alone, less isolated. I knew that if I did have a bad day, they were there for me. I also got involved with support groups which were really nice because I could talk to other women who are in the same boat as me. You don't have to worry about what you say. You can speak honestly. I didn't want pity. I wanted to beat this – and I think Macmillan played a big part in that.
Macmillan Cancer Support Line
The Macmillan Support Line offers confidential support to people living with cancer and their loved ones. If you need to talk, we'll listen.
Online community
A network of people affected by cancer which anyone can join at any time. It's anonymous, and free to join.
Local Support Groups
If you need to talk about your cancer experience, there are over 900 Macmillan local support groups in the UK
.