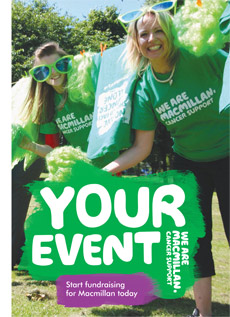 Whether you are organising an event to celebrate an occasion, remember a loved one or simply because you want to do your own thing for Macmillan, grab a Your Event pack now. It's chock-a-block with all the information you need to organise an enjoyable and rewarding activity. Simply choose the pack most relevant to you below, then download it and let the fun begin.
You'll discover that loads of help is at hand to make Your Event go with a bang. For example, head to be.macmillan.org.uk and you can order from a selection of free promotional materials and merchandise. And why not log onto JustGiving.com and set up a fundraising page for your activity? It's so easy and, because it collects money from your supporters automatically, it takes all the hassle out of rounding up your sponsorship.
If you have any questions, don't forget that we are always on hand to help. Just give our friendly fundraising team a buzz on 0300 1000 200 or drop us a line at fundraising@macmillan.org.uk.