Fundraising support centre
0300 1000 200
Alps Cycling
Challenge
Tackle a series of classic mountain climbs made famous by the Tour de France.
Registration for this event is now closed.
Day 1: Meet in Geneva
When you arrive in Geneva, you'll be transferred to Annecy (approx 1½ hour's drive), a beautiful lakeside town over the border in the French Alps. We arrive at our hotel, you can check in and we'll then spend some time ensuring all the bikes are properly assembled and comfortable.
Day 2: Annecy – Col des Aravis – Col des Saisies – Albertville
We'll be up early to head out of Annecy on our bikes, the valley terrain provides a perfect warm-up as we head towards the ski resort town of La Clusaz. Passing through St George du Sixt, the anticipation builds as we see signs for the Col des Aravis. We head up steadily, reaching the summit at 1,487m - a relatively short and gentle climb but still our first col and a significant achievement.
When we've reached the top we enjoy a fabulous descent but will soon be climbing again. The Col des Saisies is longer but you should be fully warmed up by now. Cafés await us at the summit (1,650m) and we stop for a quick celebratory coffee before relishing the long sweeping descent down to Albertville.
Cycle approx 100km (60 miles)
Day 3: Albertville – Col de la Madeleine – Col du Télégraphe – Valloire
After a good night's rest, we head out of Albertville along the valley, stretching our legs on the gently undulating roads. It won't seem long before we reach our first climb of the day, the Col de la Madeleine (1,993m). Steeper than yesterday's cols, this is a good transition day. It's important to pace yourself as this is a long climb at almost 25km.
A long, welcome descent takes us to the lovely town of La Chambre and a lovely lunch stop. We cycle along flatter roads towards St Michel, warming up our legs again before tackling the second climb of the day, the Col du Télégraphe. This is a tough climb, shorter than this morning's effort but considerably steeper, and you have really earned a celebration when you reach the top of the pass (1,566m). Then we have a short descent before heading for our hotel in the valley town of Valloire and a well deserved rest.
Cycle approx 110km (64 miles)
Day 4: Valloire – Col du Galibier – Alpe d'Huez – Bourg d'Oisans
When we leave Valloire the climbing starts almost straightaway, so it's important to pace yourself gently and get your body used to the bike again. After 8km our legs will be feeling nicely warmed up and we are greeted with a short, flattish section and absolutely stunning scenery before starting the 'real' climb of the Col du Galibier. Weather permitting, we avoid the mountain tunnel and ride on smaller roads with plenty of hair-pin bends through this stunning mountain range. The last section is particularly steep, with a gradient of 10% over the last kilometre. The sense of achievement on reaching the top will be one to remember forever. At the top you are greeted by a monument to Henri des Granges, the founder of the Tour de France – a perfect group photo stop.
Heading downhill towards lunch in the valley, we enjoy the amazing landscape of this region. After we have rested and refuelled, we head off towards the lovely town of Bourg d'Oisans and the start of the most famous climb of them all, Alpe d'Huez. At 'only' 14km long, the climb is relatively short but is notorious for many reasons, not least its steep gradients. The climb will be hard, especially after your efforts on the Galibier, but enjoy every minute as this fabulous mountain marks the end of your challenge. We celebrate our incredible achievement at the top of the mountain. After time to take it all in, we enjoy our last thrilling descent back down the mountain to Bourg d'Oisans, check into our hotel and celebrate in style.
Cycle approx 105km (62 miles)
Day 5: Bourg d'Oisans – Geneva
We drive back to Geneva Airport in the morning. You will board your flights home with new friends, wonderful memories, tired legs and a brilliant contribution to Macmillan's work.
---
You also might like...
OverseasSunday 02 November 2014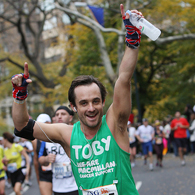 ---