Fundraising support centre
0300 1000 200
Morocco 3 Peaks
Hiking Challenge
Tackle the three highest peaks in the Atlas Mountains.
Registration for this event has closed.
Here's what you'll be getting up to on this incredible challenge. 
Day 1: Fly London to Marrakech 
We have a short transfer to our hotel, then have dinner and a trip briefing before a good night's rest. 
Day 2: Marrakech – Ait Bougmez – Azib Ikiss 
After breakfast we have a scenic drive into the High Atlas Mountains and the Ait Bougmez valley. Nicknamed 'happy valley', its reputation for being one of the most beautiful valleys in the High Atlas is well-founded. Fertile green pastures contrast with the surrounding red rocky peaks, and streams tumble down from the M'Goun massif allowing fruit trees and crops to grow. After lunch we set off following a clear path through the main valley which takes us gradually upwards past local villagers tending their fields. We eventually reach the Arous gorge – a small valley eroded by water to form a smooth rocky gorge – and hike up through it. The climb gets gradually steeper until we come to Azib Ikiss, where we camp on a plateau (2,300m). 
Drive approx 2.5 hours.
Trekking time approx 5 hours 
Day 3: Azib Ikiss – Tarkeddid Plateau 
We begin by climbing up through the valley towards the lovely Tarkeddid Plateau. The scenery around us is spectacular, with the smooth curves of the mountain peaks on the horizon and immense valleys stretching around us. Although the vegetation is sparser at this higher altitude, there are still some poplars, junipers and shrubs along the route. Our path takes us steeply up to the mountain pass of Tizi-n-Tazite (2,909m) and then continues even more steeply to our second pass of Tizi-n-Targadit (3,400m). The views from here are breathtaking as we look back over the Ait Bougmez valley below. Dropping down from the pass we come to our scenic camp on the plateau (3,000m). 
Trekking time approx 7 hours 
Day 4: M'Goun Summit 
Today we tackle the first, and arguably hardest, summit ascent of our three peaks. We start early and adopt a gentle pace as we climb. Our steep and rocky route takes us up onto an exposed ridge, which we follow to the summit of M'Goun (4,068m). From here we have wonderful views over the mountains and valleys of the High Atlas, and can see the vast Sahara Desert in the distance. After soaking up the views we begin our descent. Coming down can be nearly as challenging as going up but we're rewarded with stunning panoramic views of the valleys below, dotted with small Berber villages. We also pass remnants of some old shepherd's huts and may see the temporary settlements of semi-nomadic farmers as we drop down to our valley camp (2,600m). 
Trekking time approx 7-9 hours 
Day 5: Azib Imin Oulaoune – Amsouzart 
Today's half-day trek takes us predominantly downhill as we follow good tracks through picturesque valley landscapes. We come to the small village of Imin Oulaoune and have lunch nearby. We then load up into the waiting vehicles and drive south through the mountains to the village of Amsouzart (1,600m). This lovely village is the quiet southern gateway to Mt Toubkal and we spend the night in a local guesthouse. 
Trekking time approx 3-4 hours; drive approx 3 hours 
Day 6: Amsouzart – Mouflon Hut 
After breakfast we load up the luggage onto our new team of mules and begin our trek. This area is more rugged and rocky than the M'Goun region we've seen, with steep-sided valleys eroded by the wind. Our route takes us towards Lac Ifni, passing several small mud-brick villages as we go. Lac Ifni (2,200m) is the only lake in the mountains and its dark blue waters provide a real contrast to the mountains that tower around us. It's a beautiful place to stop and soak up the atmosphere. Our path then starts to climb more steeply, zigzagging before we eventually crest the pass of Tizi Ouanoums (3,664m). We take a break to enjoy the stunning views of the Toubkal valley and the lake below. We then drop down to Mouflon Hut where we spend the night (3,200m). 
Trekking time approx 6-8 hours 
Day 7: Ouanoukrim Summit 
Today we tackle the second summit of our trek. Our route is steep in places but overall is not as tough as the M'Goun ascent day. We trek up to the high pass of Tizi n'Ougan (3,750m) and then continue on to Ouanoukrim (4,089m). There is some scrambling over rocks in places and there may be a few patches of leftover snow to cross, but we don't need any technical knowledge or experience. The second-highest mountain in North Africa, Ouanoukrim actually has two summits; we trek to Timzguida, a few metres higher than its twin. After enjoying the views of the surrounding peaks, including neighbouring Toubkal, we start our descent and return to Mouflon Hut (3,200m) where we spend a second night. 
Trekking time approx 8-10 hours 
Day 8: Toubkal Summit – Imlil – Marrakech 
Today we tackle our final summit, Mount Toubkal (4,167m) - the highest peak in North Africa. We rise before dawn and, armed with head-torches, trek in the dark along well-trodden rocky tracks that twist their way up the mountain. We stop to admire the sunrise illuminating the spectacular landscapes around us as we ascend. Higher up, there are some loose shale sections and may be snow underfoot in places but once we finally reach the summit, the sense of achievement is enormous. After enjoying the dramatic views from the top, we begin our descent, gently at first before zig-zagging steeply. Our path is narrow at times and eventually passes through the tiny hamlet of Sidi Chamharouch (2,200m), which has grown up around a Muslim shrine. We continue down through small villages and walnut groves until we come to the low flood plain at the foot of the mountain. We finally reach the busy Berber village of Imlil (1,740m) where our vehicles are waiting to take us to Marrakech – no better place to celebrate our huge achievements of the week. Night hotel. 
Trekking time approx 10-12 hours 
Day 9: Free day Marrakech 
Today is free to relax and explore this fascinating city – a real change to our remote mountain paths and a memorable way to end our adventure. We explore the exciting Jma el Fnaa (main square) with its food-stalls, musicians, story-tellers, street-performers and snake-charmers and wander the city's famous bustling souks, haggling for souvenirs or just enjoying the cultural flavour. We meet again in the evening to celebrate our incredible achievements. We'll spend the night in a hotel. 
Day 10: Fly Marrakech to London 
After breakfast we transfer to the airport for our flight back to London. 
Please note, Discover Adventure reserves the right to change the route or itinerary for safety reasons should local conditions dictate.
---
You also might like...
OverseasSunday 02 November 2014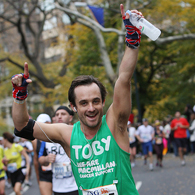 ---