Fundraising support centre
0300 1000 200
Indian Himalayan
Cycle Challenge
Experience the extraordinary peaks that only India can offer.
Registration for this challenge is now closed.
Here's what we'll get up to on this exciting challenge
Day 1: Depart UK
We leave London Heathrow bound for Amritsar, India.
Day 2: Arrive Amritsar
We arrive in Amritsar and, in the evening we visit the world famous Golden Temple, an unforgettable way to start our adventure.
Day 3: Amritsar - Pragpur - Kangra
An early start sees us driving east to Pragpur, on the edge of the Himalayas. Pragpur (610m) is India's only UNESCO World Heritage Village. Our route takes us along the quiet back roads of the Kangra Valley, passing through a wonderful sub-tropical landscape of cultivated fields and small villages – a fantastic introduction to our journey. We finish in the small town of Kangra (735m). Night hotel.
Drive approx. 4 hours; cycle approx. 4–5 hours / 45km
Day 4: Kangra - Mcleod Ganj
We continue through the Kangra Valley before we reach the Dhauladhar Mountains, the outermost range of the Himalayas. We then ascend nearly 1,000m over 20km to Dharamsala and Mcleod Ganj (1,770m). Here we're treated to magnificent views of the mountains towering above us. It's a hard end to the day, but Mcleod Ganj – home to the Dalai Lama – makes it all worth it. Night hotel
Cycle approx. 5-6 hours / 45km
Day 5: Mcleod Ganj - Baijnath Camp
The morning starts with a sharp descent down to Dharamsala (1,457m) before our route curves round and the peaks of the Outer Himalaya loom 4,500m above us. As we reach Baijnath (1,230m) the landscape suddenly changes – tea plantations, grazing buffalo, wild forests and daily village life are all set against the stunning backdrop of the Himalayas. Night camp.
Cycle approx. 7–8 hours / 80km
Day 6: Baijnath Camp - Mandi
Today is more challenging as we head for Mandi at the foot of the Kulu Valley. We ride closer to the mountains; the vegetation changes as we move higher. We follow the line of the Dhauladhar ridge, and tackle some steep ascents, before we descend into the market town of Mandi (830m). Night hotel.
Cycle approx. 7–8 hours / 81km
Day 7: Mandi - Jingo Camp
Today the difficulty of the long uphill climbs is matched only by the fabulous scenery. Our route cuts through the Outer Himalaya and its striking landscapes, with the mountains rising sharply on each side. We have some steep climbs before lunch at Larji (1,075m), a small settlement in a stunning position between the torrents of two rivers.
We then ride on the fringes of the Great Himalayan National Park – home to bears, leopards and wildcats. The road steepens as we approach our camp just past the small attractive town of Banjar. Try to take every stunning scene in. Night camp.
Cycle approx. 7–8 hours / 70km
Day 8: Jingo Camp - Jalori Pass (3223m) - Sainj Camp
Today we reach our highest point. We start early, making for Jalori Pass (3,223m) and take it gently to start with before forests give way to sub-alpine birches and rhododendrons as we ride above 3,000m. From the pass there are spectacular views over the Pir Pinjal range and Tibetan peaks. We then have a breathtaking descent to the small town of Luhri (940m) and our camp lies near a beautiful Himalayan river. Night camp.
Cycle approx. 6–8 hours / 72km
Day 9: Sainj Camp - Tikka Camp
Another early start sees us pedalling along quiet, narrow roads and tracks. We follow a narrow road cut dramatically into the steep cliff-sides, with the mighty Himalaya river to one side. Mainly on dirt roads with some tarmac, the road undulates as it twists it's way west towards Tattapani. We then climb back into the hills on a narrow ascent of approx 30km, keeping our eyes peeled for monkeys! Night camp.
Cycle approx. 6–7 hours / 85km
Day 10: Tikka Camp - Shimla
Our last day of cycling is shorter, but the hills aren't finished. There are some spellbinding views across to snow-capped peaks and we pass small villages with women and children working in the fields. Our destination is the hill station of Shimla (2,205m), the state capital of Himachal Pradesh, and the former summer capital of British India. There'll be feelings of joy (and a little sadness) as our incredible Himalayan ride is at an end. The afternoon can be spent exploring Shimla before meeting up in the evening for a slap up dinner to celebrate our achievements. Night hotel (lunch and dinner not included).
Cycle approx. 3 hours / 30km
Day 11: Shimla - Kalka - Delhi
Today we enjoy one of the main tourist attractions in the region – the famous 'Toy Train' narrowgauge railway which runs through the foothills for almost 60 miles between Shimla and Kalka, with astounding views over the mountains and villages. This is a great way to relax and enjoy the landscapes you have conquered. We then take a train to Delhi, arriving late in the evening. Night hotel.
Toy train approx. 5 hours; Delhi train approx. 4 hours
Day 12: Fly Delhi to London
Time to head home and reflect on the amazing adventure you have just completed. Depending on our flight departure time there may be time in the morning for sight-seeing or shopping.
---
You also might like...
OverseasSunday 02 November 2014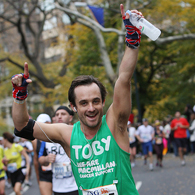 ---